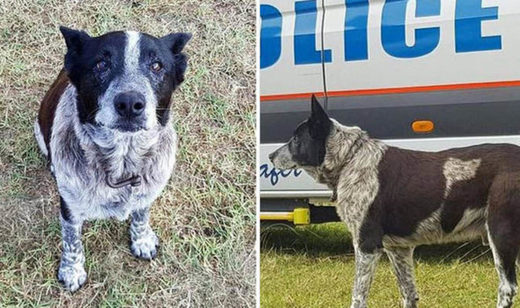 Blue heeler Max was awarded a police honour after staying by her side for more than 15 hours in the wild and eventually leading rescuers to the child.
Max came to the rescue after
three-year-old Aurora went missing when she wandered off
into bushland on a rural property in Queensland state.
Emergency services launched a desperate search for her on foot and from the air on Friday, but could not find her.
But they were aided in their search by
the 17-year-old dog
, who had stayed with the child during a rainy night before leading her distraught family and rescuers to her on Saturday morning.
Leisa (the child's grandmother) heard Aurora's voice, then found Max first.
Leisa's partner Kelly Benston said: "Max then led her to Aurora."
The blue heeler was praised by the police for his good deed.
Queensland Police posted on Facebook: "SUCH A GOOD BOY, MAX!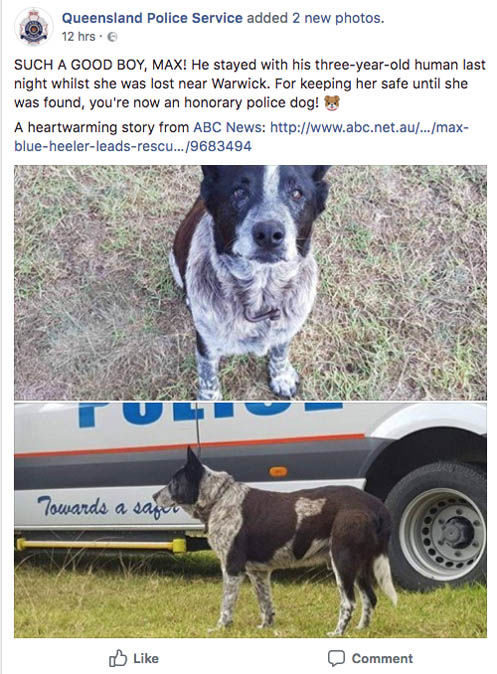 For keeping her safe until she was found, you're now an honorary police dog!"
The police posted the praise alongside a picture of the pet.
The little girl had thankfully only suffered minor scratches and was in good spirits, according to rescuers.
She was found on the property more than a mile from the family home emergency services coordinator Ian Phipps told the Australian Broadcasting Corporation.
Mr Phipps said:
"The area around the house is quite mountainous and is very inhospitable terrain to go walking in."
"So she'd travelled quite a distance with her dog that was quite loyal to her."