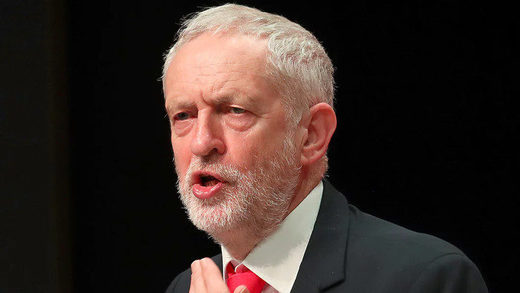 Jeremy Corbyn has hit out at Donald Trump, telling the US leader that
"more war will not save life."
The Labour leader's comments come as
he urges Theresa May to ensure a parliamentary vote before any military action in Syria.
On Wednesday, Trump threatened on Twitter that
"smart"
missiles would soon be aimed at Syria,
in retaliation for an alleged chemical weapons attack in the city of Douma. When asked about the US president's comments at a local election event in Derby, the Labour leader said:
"I think the whole world should be alarmed at that sort of instant reaction - sending stuff out on social media to make policy."
He added: "More bombing, more killing, more war will not save life."
Corbyn condemned the alleged chemical attack against the Syrian people in Douma at the weekend, describing the use of chemical weapons as "illegal as well as immoral and wrong." However, the UK opposition leader said that
he wanted to see the whole picture on the alleged chemical attack,
and that Parliament needs to be consulted before any military action is taken.
Corbyn urged the Conservative government to "listen to what the UN says" and wait for an "inquiry into the source and usage of the chemical weapons."
Members of the Organization for the Prohibition of Chemical Weapons (OPCW) are set to discuss "alleged use of chemical weapons" in Syria.
The OPCW said in a statement on Tuesday that it is preparing to deploy a team to Syria
to investigate allegations of chemical warfare against civilians, but - according to Corbyn - investigators are already on the ground.
"The United Nations has a duty and a function to ensure there's a proper investigation undertaken as the inspectors are now in Douma doing just that and, when we've got the results of that, decide what action to take," he said.
The Labour leader urged Prime Minister May to give Parliament a say on the potential military action.
"Parliament should always be given a say on military action," Corbyn said. "That's a case that I've made going back many, many years in Parliament. Obviously the situation is very serious, obviously there has to be, now, a demand for a political process to end the war in Syria."
Labour MP Richard Burgon took to Twitter to voice his opposition of the "push for war."
His colleague Emma Dent Coad, Labour MP for Kensington, also called for prudence. "We cannot risk total war... We need serious diplomacy, now." Member of Parliament for North West Durham Laura Pidcock called the attack in Douma "horrific," while also calling for "diplomacy, not bombs."
The Labour leader's demand is being echoed across the chamber by Liberal Democrats and SNP members. Tory MP Julian Lewis agreed with the opposition leader.
"It sends a very bad signal to the country that they don't submit themselves to parliamentary scrutiny before involving in taking military action by choice in the context of a civil war where both sides equally atrocious," the New Forest East MP said.
Fellow Labour MP Richard Burgon urged the UK government not to act recklessly.
"This crisis could escalate very quickly into a shooting war in Syria," he said. "If Russians are injured, the Kremlin will hit back. The most important thing our generation can achieve is to avoid actual conflict with Russia," the Leeds East MP added. "If we are reckless or thoughtless in our actions, it will make conflict now or in future more likely to happen."
Anti-war campaigner and ex-MP George Galloway wondered if a parliamentary vote would see Labour "traitors" turn against Corbyn.
In 2015, Corbyn faced a rebellion from his own Labour MPs during a vote to bomb Islamic State (IS, formerly ISIS) in Syria. Then-Shadow Foreign Secretary Hilary Benn turned on his leader by delivering a speech in favor of the attack, and the vote was lost by Corbyn with 66 Labour MPs siding with the government.