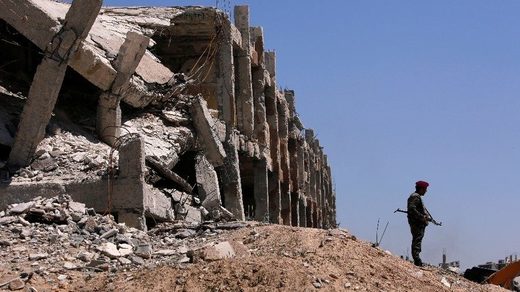 The Syrian government is holding negotiations with Jaysh al-Islam militants on Sunday after the group requested talks, state media reports. The city of Douma is one of the remaining strongholds controlled by the radical group.
Damascus agreed to negotiate with one of the last major militant groups holding out in Douma in a bid to protect civilians and liberate abductees, state news agency SANA reported,
citing
an official source.
Meanwhile, Sputnik news agency reported that
the talks have already yielded results, with the militants agreeing to withdraw from the city in two groups
and release the prisoners.
The radical Islamist group, which has been accused of using civilians as human shields, earlier agreed to leave the enclave of Eastern Ghouta near the Syrian capital. Jaysh al-Islam will have to clear barricades and provide maps of minefields that they have laid in the area. The militants were set to begin withdrawing from the city of Douma on Sunday, the head of the Russian Defense Ministry's Syrian Reconciliation Center, Major General Yury Yevtushenko has said.
Earlier, reports described ongoing fighting to the northeast of Douma. A military source
told
SANA that the Syrian Army had targeted Jaysh al-Islam positions with artillery fire, rockets and airstrikes in the village of al-Rihan on Sunday.
Douma made headlines on Saturday after
rebel-linked activists, including the controversial "civil defense" group the White Helmets, claimed that a chemical attack had injured dozens of civilians there
. The unconfirmed reports blamed Damascus for the incident, which in turn rejected them as "fabrications."
Russia's Foreign Ministry called the chemical-attack reports "fake news," while noting that it had warned about militants planning false-flag attacks to pin them on Damascus. These are intended to "justify possible military strikes from the outside,"
the ministry said.
On March 31, the Syrian Army said it liberated most of Eastern Ghouta and finally lifted the militant blockade of a major highway connecting Damascus to the rest of the country.
Since late February, more than 157,000 people have been evacuated from Eastern Ghouta and as many as 33,345 from Douma
, Russia's Ministry of Defense
said
in a statement on Thursday.
Syrian troops launched their major push on Eastern Ghouta in February, aiming to terminate
a militant occupation that had been in place since 2012
. Daily humanitarian pauses in the area began on February 27 as part of efforts by the Syrian Army and Russia to help civilians leave the combat zone. The Russian military repeatedly said that the militants were using civilians as human shields, targeting those attempting to flee the terrorist enclave.