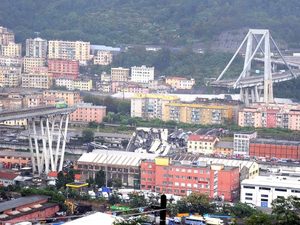 14 August 2018: Morandi Bridge in Genoa, Italy, collapses during a storm, killing 35 people
If the doors of perception were cleansed, everything would appear to man as it is, Infinite. For man has closed himself up, till he sees all things thro' narrow chinks of his cavern.

'The Marriage of Heaven and Hell'
- William Blake
Recent Comments
In the end, the difference between true liberals (left) and a conservatives (right) is that if society was given a simple choice: A- Have a...
---
Andrew Cuomo, much as most liberals, are ignorant traitors who fail to comprehend what's good for the United States and ALL AMERICANS. The...
---
I used to live in an old lady's left nostril. It was not too bad...unless she sneezed...
---
"All we have to do is shift value and credibility from plutocrat-generated narratives, and cultivate an aggressive disgust for all attempts by the...
---
He's such a slime ball