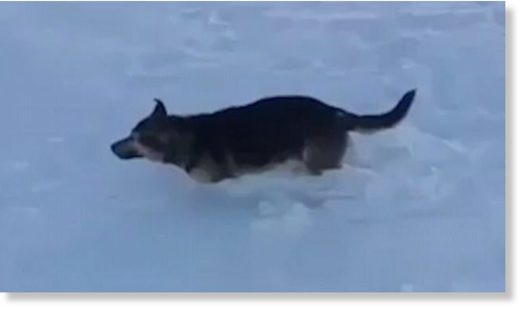 Animals have been frozen solid after temperatures dropped to minus 56C in Kazakhstan.
Videos show both a hare and a dog frozen to death amid bitter conditions sweeping across the vast Central Asian nation.
The hare was trapped while climbing through a fence before dying in the arctic conditions and its body had to be pulled free by locals.
The dog appears to have become stuck while walking through a snow-covered field.
Animal rights activists called for more to be done to save helpless animals caught out in the sub-zero weather.
One group warned: 'In these terrible frosts we try to save every animal - around the clock with volunteers we go almost for all the cries for help.
'We warm the animals, feed them, and urgently take to vets.'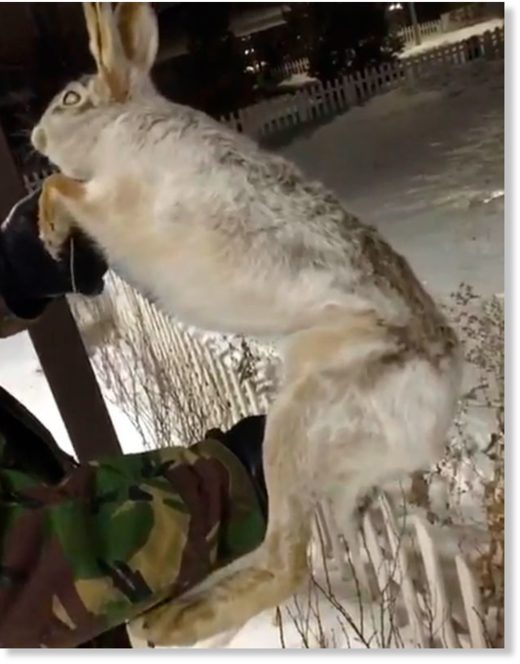 The freezing conditions come just weeks after a thermometer recorded temperatures of minus 62C in a village in neighbouring Russia.
Oymyakon in remote Siberia is the coldest permanently inhabited settlement in the world.
The official weather station at the 'pole of cold' registered minus 59C, but locals said their readings were as low as minus 67C - less than 1C off the lowest accepted temperature for a permanent settlement anywhere in the world.
That record breaking low was taken in the town back in 1933.