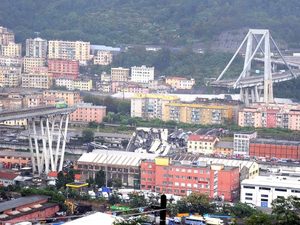 14 August 2018: Morandi Bridge in Genoa, Italy, collapses during a storm, killing 35 people
If the doors of perception were cleansed, everything would appear to man as it is, Infinite. For man has closed himself up, till he sees all things thro' narrow chinks of his cavern.

'The Marriage of Heaven and Hell'
- William Blake
Recent Comments
Could this be the physical sound of global magnetic tip? As these last couple of days has seen earthfacing sun spot activity other evidence of tip...
---
Isn't it amazing what just a few degrees of magnetic global tip can do to a riverbed and the world's magmaflow tunnels lol
---
It's just as bad in education and most businesses. People, for the most part, do not know how to handle authority legitimately. They either avoid...
---
American history can only accurately be described as the story of demonic possession Masonic possession? If you believe in magik then you'll...
---
Time to tell the bankers thanks and good luck to you. Debt jubilee for the rest!!! [Link]