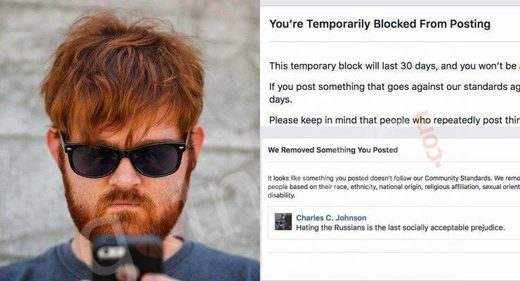 Facebook has censored the account of GotNews Editor-in-Chief Charles C. Johnson over a status he posted that simply read "Hating the Russians is the last socially acceptable prejudice."
Johnson wrote the innocuous post to highlight how pervasive anti-Russian prejudice is in the public discourse right now: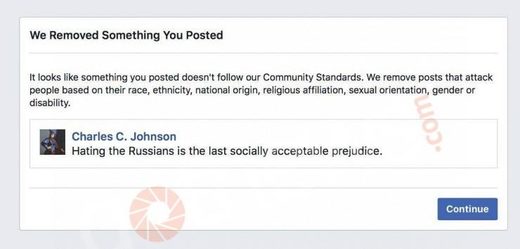 Johnson then received a message from Facebook informing him that he has been temporarily blocked from posting
for 30 days
, and will not be able to post on Facebook in the meantime.
This notice also warned Johnson that, when his account is eventually unlocked,
"if you post something that goes against our standards again, your account will be blocked for another 30 days."
It further advised him to "Please keep in mind that people who repeatedly post things that aren't allowed on Facebook may have their account permanently disabled.":

Johnson, who was
similarly censored by Facebook
in August for responding to libel, received a chilling, bigoted letter last month from a Senate Intelligence Committee lawyer. The letter demanded Johnson turn over any communications he has had with any "persons that Mr. Johnson knows or has reason to believe are of Russian nationality or descent.":
Rolling Stone
's Matt Taibbi noted that there are approximately three million Americans of Russian descent in the United States.
Anti-Russian bigotry and hysteria in government apparently go beyond the Senate's lawyers. In July, when asked how the US can prevent future Russian cyber attacks on elections, Republican Senator Bob Corker said "Oh, I think Russia -
this is just part of their DNA
.":
In addition, Republican Senator John McCain
accused one of his colleagues, Senator Rand Paul
, of working for Vladimir Putin, and House Minority Leader Nancy Pelosi and Elizabeth Warren both
called on Attorney General Jeff Sessions to resign
over the revelation that he once met with a Russian while he was a United States Senator.