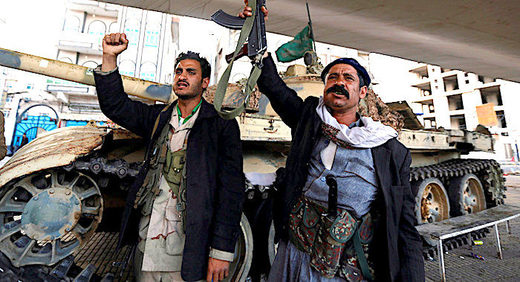 Amid clashes with the supporters of the former Yemen's president, the Houthi rebels seized the Yemen Today channel's station building, trapping journalists inside.
The Yemeni Houthi rebels will free the journalists they are holding in a TV channel's building in Sanaa after investigative procedures, Houthi politburo member Halima Jahaf told Sputnik on Tuesday. "I do not have exact information about the journalists, who they are, but they will be held for some time only to determine the circumstances, they will be released," Jahaf said.
According to the Houthi official, many of those who were held hostage were recently freed and "they are not complaining about violations."
On Saturday the Houthis stormed Yemen Today broadcaster's headquarters, taking some 40 people hostage. A freelance correspondent working for Sputnik in Yemen went missing after rebels took over the TV station and has not made contact in 24 hours.
The takeover of the channel station occurred amid violent clashes provoked by the breakdown of the fragile alliance between the Houthis and Yemen's ex-president Ali Abdullah Saleh. The violent conflict resulted in the Houthis gaining full control over the city,
announcing
the "end of crisis" after
the shocking killing
of Saleh.