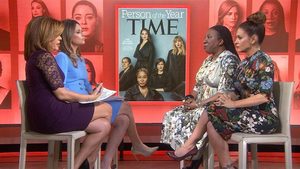 'This is the fastest moving social change we have seen in decades,' says Time editor-in-chief
The Hollywood abuse "silence breakers" have been named as
Time
magazine's 2017
Person of the Year
.
The decision to grant people who have come forward with allegations of sexual misconduct with the accolade was announced on NBC's
Today
show
on Wednesday morning.
The award is decided by
Time'
s editors and goes to the person or group who has had the most influence on the year's news for better or worse.
"
This is the fastest moving social change we have seen in decades
,"
Time
editor-in-chief Edward Felsenthal told the programme.
"
It began with individual acts of courage by hundreds of women - and some men, too - who came forward to tell their own stories
".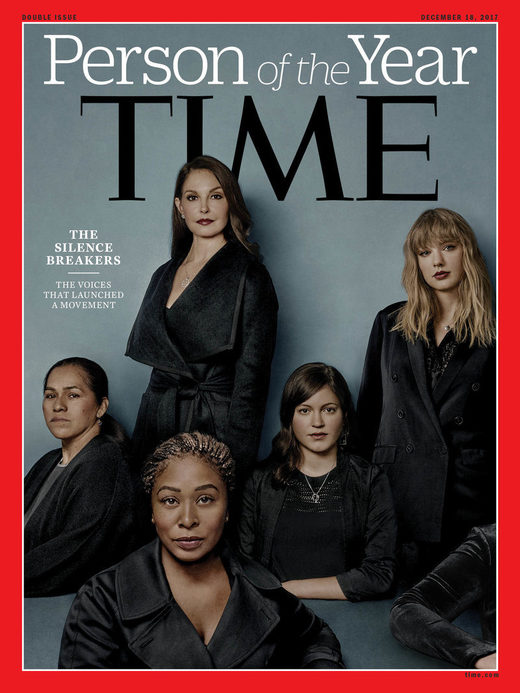 Comment:
If there's silver lining to the postmodernist extremity that feminism has taken people to, it's that precedents like this hold exposing corruption as a value and a sort of 'swamp-draining'.
Your eyes don't deceive you, by the way; that is actually Taylor Swift on the cover, the pop singer that has been
attacked by feminists
for not screaming at the sky enough, despite the fact that her '#MeToo' contribution was to pipe up and remind folks that someone grabbed her
derriere
back in '03 (the person was fired from his job as a result).
You'll also notice self-described hysterical "nasty woman" Ashley Judd (don't get us started,
watch this
if you can stomach it).
The problem here is that this phenomenon is taking place among the most narcissistic sectors of the population. Will they gain insight from 'exposing the predators'? Not likely. Will they become better people? Not likely.
While 'unloading their burdens', these are the same people venting their spleen against Russia, Trump, and anything resembling a call to
not
'tear it all down'.
Maybe though, just maybe, the highly-publicized thrill these people get from 'exposing predators in their midst' (most of whom were victims of a witch-hunt,
not
'predators'), might set a precedent for others to see that it's kosher to go after such as the Podestas, with their spirit-cooking, cannibalistic, pedophilic, black magic stuff.
Maybe.
But the only precedent this has set so far is the precedent of ruining a person's life and career with a mere accusation of "sexual misconduct".
See also:
The five featured on the
Time
cover are actress Ashley Judd, singer Taylor Swift, former Uber software engineer Susan Fowler, California lobbyist Adama Iwu, and strawberry picker Isabel Pascual. All of these women went public with the stories of sexual harassment they alleged they faced in the workplace.
US President Donald Trump, who was bestowed with the accolade last year, came second, while Xi Jinping, the leader of China, came third.
Other finalists included US Department of Justice Special Counsel Robert Mueller - the former FBI Director who is investigating the alleged collusion between Mr Trump's 2016 campaign team and Russian officials.
North Korean leader Kim Jong Un,
Wonder Woman
director Patty Jenkins, and American football player Colin Kaepernick, were also finalists for the magazine's award.