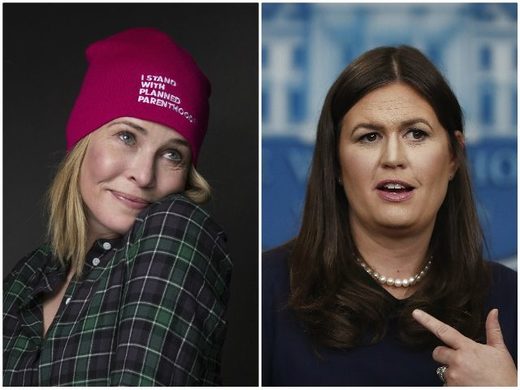 Left-wing comedian Chelsea Handler made a series of lewd remarks about White House press secretary Sarah Huckabee Sanders during the latest episode of her recently canceled Netflix series
Chelsea.
"That Harlot that they're dressing up and trolloping out every day?" Handler said on last Friday's episode in reference to Sanders. "I mean, one day she has no makeup on at all, the next she has six foot long eyelashes, she's got cleavage and summer whore lipstick all over her face. Can you believe what they turned her into? A proper trollop."
The comments quickly attracted criticism on social media, with Twitter users pointing out a contradiction of Handler's feminist credentials.
"Sarah Sanders is everything Chelsea Handler could never be," wrote one user. "Smart, classy, and professional."
"[Handler] considers herself a champion of [sic] woman yet she has no problem shaming Sarah Sanders," wrote another user.
"This is what the Left has been reduced to," added another. "The left is now attacking the physical attributes of conservative women."
Handler, whose show was recently canceled amid largely
unfavorable
reviews, regularly makes controversial political statements, which include
calling
Secretary of Housing and Urban Development Dr. Ben Carson and actress Stacey Dash "black white supremacists" and
suggesting
that President Trump is a bigger criminal than so-called Dreamer illegal immigrants.
Hander also regularly attacks Trump on social, once suggesting that he should be
subject
to a military coup. She has even
mocked
First Lady Melania Trump's grasp of the English language.
Following her show's cancellation, Handler said she would seek to further involve herself in political activism.
"Like so many across the country, the past presidential election and the countless events that have unfolded since have galvanized me," she said, adding that she would "devote as much time as I can to becoming a more knowledgeable and engaged citizen and to focus on projects that have significance to me."