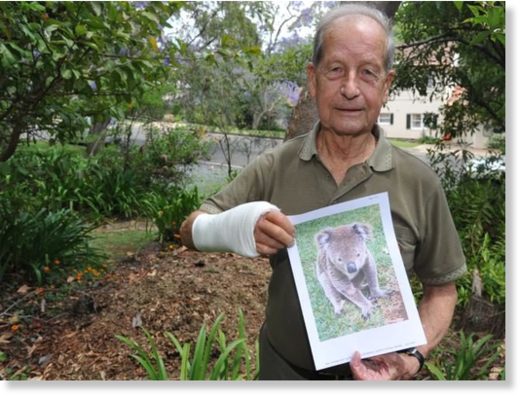 Brutal attacks don't normally come to mind when you think of the cuddly koala — but one has left a Wahroonga man in hospital for a week after it bit him in his front yard.
Michael Barnett, 84, from Yanilla Ave, Wahroonga was attacked by the koala last Monday while he was trying to rescue the animal from a flock of angry cockatoos.
Mr Barnett was unsure where the koala's natural habitat was but his property backs onto the Lane Cove National Park.
"It is an incredible story," Mr Barnett told the
Hornsby Advocate
. "The first koala I see in the area in over 40 years and it bites me while I am trying to rescue it."
The attack comes after a rogue ferret bit a Baulkham Hills woman while she slept earlier this week.
Mr Barnett picked up the not-so-cuddly native neighbour, which was being attacked by a flock of cockatoos, before it revealed its ugly side and bit his right hand.
"I gave him a scratch behind the ear to show him I was friendly and he didn't mind," he said.

"So I picked him up to help him back into the tree and that was when he bit me.

"It took off most of the skin from the back of my hand and left me in hospital for a week."
Mr Barnett said the bite — which resembled an attack of the infamous 'drop bear' — left "quite a lot of damage" to his hand and required emergency care.
"My wife raced my up to the Sydney Adventist Hospital emergency department where doctors worked on my hand," he said.
"The doctor said it will take a number of months for skin to grow back."
Source: Hornsby Advocate