Comment:
This is the 2nd time this has happened this year on the very same Achill Island. In May, the sand at Dooagh - on the Western side of the island, that was washed away by freak storms 33 years ago leaving only bare rock,
reappeared to the delight of locals
. In the last few days, freak storms again were responsible for bringing the sand back to the beach at Ashleam Bay, this time on the Southern coast of the island.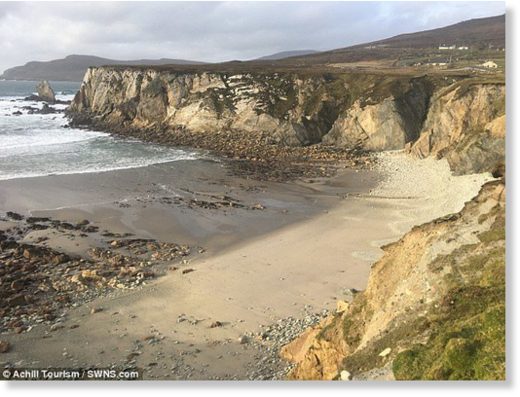 Islanders are celebrating after a beautiful beach which 'vanished' 12 years ago suddenly reappeared overnight.
The white sands of Ashleam Bay on the picturesque island of Achill off the coast of Mayo in Ireland were washed away during a freak storm in 2005.

But following recent freak weather locals noticed the beach had suddenly returned
- and are now enjoy a stroll on the sand once more.
Seán Molloy, manager of AchillTourism.com, said recent stormy weather had cleared the beach of rocks and boulders, and Storm Brian dumped a load of sand in their place.
Mr Molloy said:
'It came back after Storm Brian. It brought the first amount of sand and cleared the boulders that was on the beach way as well.
'There is local folklore that stretches back hundreds of years that says this beach comes back every seven years then disappears again.
'It was last seen in 2005 and it stayed for a few months at that time before it was washed away again.
'I've been to visit the beach. It was the first time I was ever down on that part of the shore, even though I've been here all my life, and I couldn't get over how beautiful it was. Its absolutely stunning, it's a new favourite spot for me now.
'I don't know how long it will be there, but I encourage anyone who is around to go and see it while it's there.'
Now locals including Malcolm Cooney have been able to return to Ashleam Bay and take a stroll along its sands.
Malcolm, who is a native to the island, said: 'Every time I go down there it changes, it's always different, never the same.'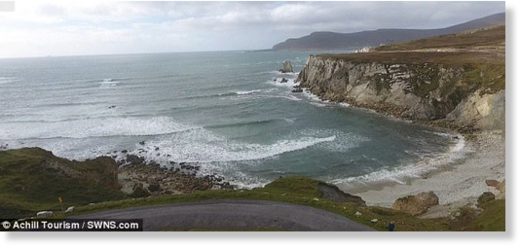 Local folklore says that the beach comes back for a short while every seven years, and now people are flocking to the west facing beach to enjoy it while they can.
Ashleam Bay is just six miles away from Achill's other famous returning beach, Doonagh.
Earlier this year the beach at Doonagh also returned having been stripped away during a storm an astonishing 33 years ago.
It had initially vanished in spring storms in 1984 after waves washed away all the sand, leaving behind nothing more than rock pools.
Speaking at the time, Sean said: 'Before it disappeared, the beach had been there for as long as living memory, almost continuously, until 1984-85.
'During that time there was some big storms that really destroyed the beach and it was completely washed away and 1984 was the last time the beach was there.
'Then in April when we had that cold snap over Easter, the wind was coming in from the north.
'It was very constant and steady and it must have transported eroded material in from elsewhere.'
He said the bulk of the sand was deposited in just over a week, leaving locals delighted.
'It's so nice for the villagers to have their beach back,' he said.
'It is an incredible example of the force and power of nature and how the coast can change in a matter of days.'