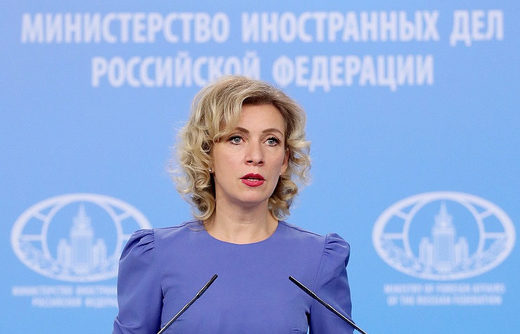 UK Prime Minister Theresa May's attempts to portray Russia as the main threat to the global community are "irresponsible and groundless," the Russian Foreign Ministry's official spokeswoman, Maria Zakharova, said on Tuesday.
"We have taken note of the statement concerning Russia made on 13 November by the British Prime Minister Theresa May at the Lord Mayor's Banquet 2017. This time our country is ranked first among "threats to the international community", not just equal to others as before. Thus, the United Kingdom is making an attempt to claim global leadership in deterrence of Russia, in order to protect the existing world order, as PM Theresa May put it," Zakharova said in a statement published on the Russian Foreign Ministry's official website.
"The assertions are not brand new, but the main common point behind them is the irresponsible and groundless nature of accusations against Russia," the statement reads.
According to Zakharova, "the idea of protection of world order sounds particularly cynical from the British Prime Minister."
"It is enough to recall the aggressive actions of the United Kingdom in Iraq and Libya which have led not to strengthening of the international law, but to numerous casualties and sufferings of millions of people and destabilization of whole regions. At the same time London shows fundamental incomprehension of current processes in the world and of the essence of the very UN Charter-based international legal order that the United Kingdom is vowing to protect," she said.
According to the ministry's official spokeswoman, the United Kingdom chose Russia as an external enemy, needed to distract public attention from the complicated situation caused by the country's ongoing process of exiting the EU and internal rifts.
"It is deeply regrettable, especially now that the United Kingdom, considering its ambition to turn into a "Global Britain", would benefit from multi-directional, pragmatic and efficient foreign policy. Such an approach would give UK extra opportunities on the emerging markets as well as strengthen its global standing through the development of dialogue with other countries. The path of confrontation chosen by London is unlikely to contribute to the achievement of these goals," Zakharova's statement reads.