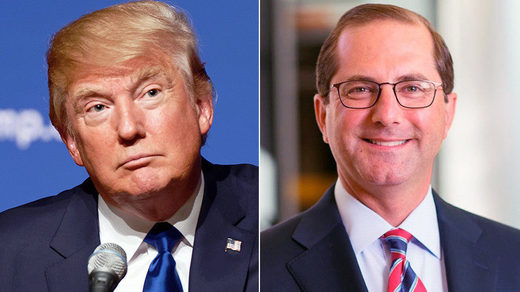 US President Donald Trump has nominated Alex M. Azar II to be secretary of Health and Human Services. Azar served as deputy secretary at HHS from 2005 to 2007, during the George W. Bush administration.
"He will be a star for better healthcare and lower drug prices!" Trump said in a tweet announcing the nomination on Monday morning.
If confirmed by the Senate, Azar would fill the vacancy created by the resignation of Dr. Tom Price in late September, amid criticism over spending $1 million of taxpayer money on air travel. Acting secretary Eric Hargan currently runs the department.
The HHS is a prominent posting in the Trump administration, as the president seeks to repeal, replace or rework the current healthcare mandate passed under the Obama administration. Trump's campaign to repeal and replace Obamacare this year foundered in the Senate due to the monolithic opposition of Democrats and dissent from several Republican lawmakers.
"
I'm not one to say many good things about Obamacare, but one of the nice things in it is it does give a tremendous amount authority to the secretary
," Azar said during an interview with
Bloomberg TV
in June. "There are still changes that can be made to make it work a little better than it has been."
From 2011 to January 2017, Azar was
president
of Lilly USA, the largest affiliate of global pharmaceutical giant Eli Lilly and Company. Azar joined the company in 2007, after serving as deputy secretary of HHS in the George W. Bush administration.
From 2009 to 2011 he was senior vice president of Lilly's global corporate affairs and communications division.
In the 1990s, Azar worked as a clerk under Supreme Court Justice Antonin Scalia and on the investigation of Bill Clinton's Whitewater real estate investments, under independent counsel Kenneth Starr.
Price, a former congressman from Georgia, resigned on September 29 amid criticism that he spent more than $1 million on flights for him and his wife. More than $500,000 of that sum was spent on overseas military flights to Africa, Europe and Asia. Price also chartered private planes for at least 24 domestic flights to cities where low-cost commercial alternatives were available.
"I was disappointed because I didn't like it cosmetically or otherwise,"Trump said at the time. "This is an administration that saves hundreds of millions of dollars on renegotiating things."
Following Price's resignation, Director of the Office of Management and Budget (OMB) Mick Mulvaney
sent out a memo
to Trump administration officials with new rules for using government funds for travel. Mulvaney reminded department heads that they are "public servants" and that money they spend comes from the taxpayers.