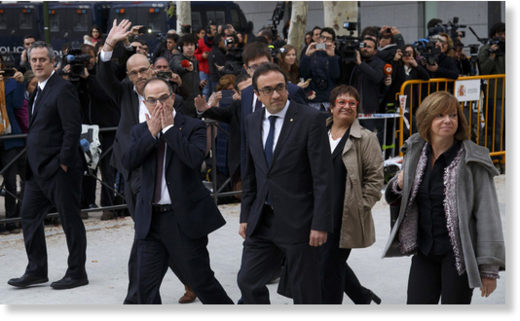 A judge in Madrid has ordered eight members of the deposed Catalan government to be remanded in custody pending possible charges over last week's declaration of independence, and Spanish prosecutors are seeking a European arrest warrant for the region's ousted president, Carles Puigdemont.

Carmen Lamela, sitting in Spain's national court, jailed the eight former ministers - including Puigdemont's deputy, Oriol Junqueras - on Thursday while they are investigated on possible charges of sedition, rebellion and misuse of public funds.
Lamela ruled that a ninth, who resigned the day before the Catalan parliament voted to declare independence last Friday, could remain at liberty on bail of €50,000 (£44,600).
Lawyers for those under investigation said their clients would appeal against the judge's decision, which they described as unjustified, disproportionate and predetermined.
Puigdemont, who travelled to Brussels shortly before Spain's attorney general announced his intention to pursue the charges, had been summoned to attend the national court to give evidence on Thursday and Friday.
In a written request to Lamela, prosecutors said that Puigdemont and four other members of his administration were aware that they had been ordered to testify, but had chosen not to attend.
"Repeated attempts to deliver the summons at home and repeated phone calls have been ignored," they said. "
For his part, Carles Puigdemont has publicly stated his intention not to appear and has requested ... to make a statement via videoconference, without giving any information about his current whereabouts.
"
Consequently, they added, they were requesting Puigdemont be found and arrested, along with the four other regional ministers who are also in Belgium.
Lamela's decision to remand the leaders in custody on the grounds that they could be a flight risk was swiftly condemned by politicians and civil society groups in Catalonia and beyond.
Hundreds of thousands of people took to the streets of Catalonia last month after the same judge ordered the jailing of two prominent pro-independence leaders, Jordi Sánchez, the president of the Catalan National Assembly (ANC), and Jordi Cuixart, the president of Òmnium Cultural.
Both men are under investigation for alleged sedition in the run-up to the unilateral independence referendum on 1 October.
The ANC called for a huge demonstration on Thursday evening outside the Catalan parliament in Barcelona. Its vice-president, Agustí Alcoberro, said the arrested leaders were political prisoners, and tweeted: "Vice-president and ministers, we will not stop until we secure your freedom."
The mayor of Barcelona, Ada Colau, described it as a black day for Catalonia.
"A government democratically elected at the ballot box is in jail," she said. "There is a common front to achieve the freedom of the political prisoners."