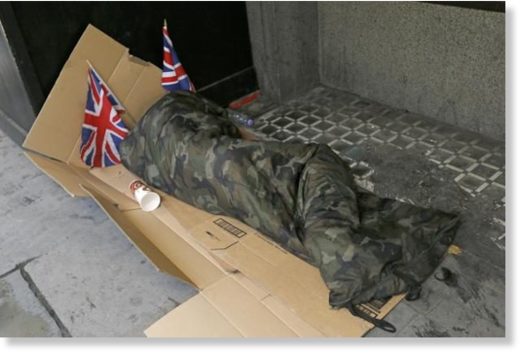 The cruelty and suffering the Government's new
universal credit
system is inflicting on thousands of vulnerable people in "abject poverty" has been exposed by a
benefits case worker.
Writing exclusively for The Independent
, the whistleblower provides a deeply disturbing insight into the
impact
that the highly criticized
benefit reform
is having on "people at the lowest point of their lives".
He tells of a system beset by delays and confusion, of suicidal claimants, of seeing "suffering on a daily basis" and how "turning away those in abject poverty" has become "part of the job".
Even parents without the money to feed their family, he says, are turned away, leaving children to "suffer in hunger for weeks".
Comment:
According to GOV.UK, Universal Credit is
designed to do the following
:
1. What Universal Credit is

Universal Credit is a monthly payment to help with your living costs. You may be able to get it if you're on a low income or out of work.

Whether you can claim Universal Credit depends on where you live and your circumstances.

If you live in Northern Ireland, go to Universal Credit in Northern Ireland.

If you already get benefits

Universal Credit will replace the following benefits:

Child Tax Credit
Housing Benefit
Income Support
income-based Jobseeker's Allowance (JSA)
income-related Employment and Support Allowance (ESA)
Working Tax Credit

If you currently receive any of these benefits, you can't claim Universal Credit at the same time.

Universal Credit is being introduced in stages across the UK. You don't need to do anything until you hear from the Department for Work and Pensions (DWP) about moving to Universal Credit, unless you have a change in circumstances.
"Often," he adds, "the call involves telling them we can't pay them anything else, even if they are genuinely penniless and will be for weeks.
"Many claimants react in anger, others break down in tears. It's only minutes until we're dealing with the next caller - and the last caller is quickly forgotten.
"I see so much suffering on a daily basis."
The whistleblower
writes
: "It is often that we have to tell claimants that the state cannot support them further at all - even if they have weeks till their next payment and have
young children to feed."
In such cases, he said, some - but not all - universal credit administrators did what little they could: "Proactive case managers signpost these claimants to charities and
food banks
, who have had to fill the gap."
But in a sign of the toll being inflicted on both those the system is supposed to support, and those tasked with administering it, the anonymous case manager admitted:
"Turning away those in abject poverty is a part of the job.
"Those who have worked in universal credit since the early days have become hardened, but it's very difficult to tell claimants, 'I'm sorry but we can't give you any more' even if we know that children will suffer in hunger for weeks."
"Claimants who state that they are facing eviction are a penny a dozen," he added.
"Case managers are well trained to deal with any claimants threatening suicide due to the recurrence [of this situation]."
Confronted by many people "at the lowest point in their lives", the whistleblower said, "compassionate and thoughtful" case workers found themselves hamstrung by the rules of the universal credit system pioneered
by former Tory leader
Iain Duncan Smith.
The case worker writes: "We can only act within the remit of strict guidelines,
which doesn't offer us the flexibility we sometimes need to prevent unnecessary suffering."
The problem, he added, was compounded by case workers frequently lacking knowledge about the precise detail of universal credit regulations.
This, he said, "can have a devastating impact on care leavers, the disabled and those with mental health conditions. It is not uncommon for charities and support workers to inform case managers of the law."
Thousands of vulnerable people, he added, were also suffering the "cruel" effects of principles that were embedded within the universal credit system:
"One of the case-managing principles is that claimants are entirely responsible for their own claim.
"The system alerts us when deadlines have been missed, allowing us to cruelly close claims. This has detrimental effects on tens of thousands of very vulnerable people.
"Although we are told to provide vulnerable claimants with more support, perhaps by reminding them that they should be doing something, normally we have little to go by, as we sit behind a computer screen and have never met them."
The whistleblower also said the burden of heavy caseloads meant "many of my colleagues feel out of their depth with the quantity of claims of they manage," while frequent delays in the system could lead to claimants being "completely neglected".
A
Department for Work and Pensions
spokesperson said: "Our frontline staff offer invaluable support to people facing difficult circumstances. Their job is not always easy, which is why we provide comprehensive training and care for their wellbeing - and our universal credit employees are positive about the support they receive.
"Universal credit is a big change to the way we deliver benefits, which is why we are rolling it out in a safe and secure way.
"The majority of people are satisfied with their universal credit claim and are comfortable managing their money, but there is extra support for people who need it. Advance payments, more frequent payments, and budgeting support is available."