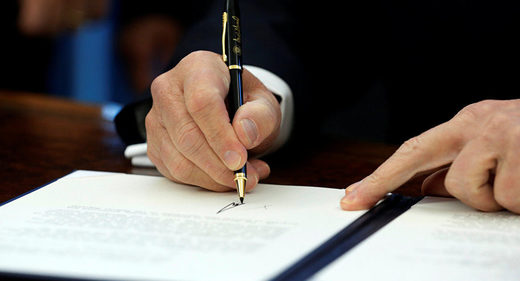 President Donald Trump signed an executive order imposing new financial sanctions against the Venezuelan government, the White House said in a statement on Friday.
"President Donald J. Trump has signed an Executive Order imposing strong, new financial sanctions on the dictatorship in Venezuela," the statement said.
The White House said the measures were "carefully calibrated" to put financial pressure on the government of President Nicolas Maduro.
The statement added that the Treasury Department will issue general licenses for businesses to do transactions that would otherwise be prohibited by the sanctions.
"These include provisions allowing for a 30-day wind-down period; financing for most commercial trade, including the export and import of petroleum; transactions only involving Citgo; dealings in select existing Venezuelan debts; and the financing for humanitarian goods to Venezuela," the statement explained.
The United States has imposed new sanctions on a number of Venezuelan officials in recent months, including Maduro, over the government's plan to rewrite the country's constitution through a National Constituent Assembly.
The United States previously threatened to sanction anyone involved with the Constituent Assembly, whose elections were held on July 31.