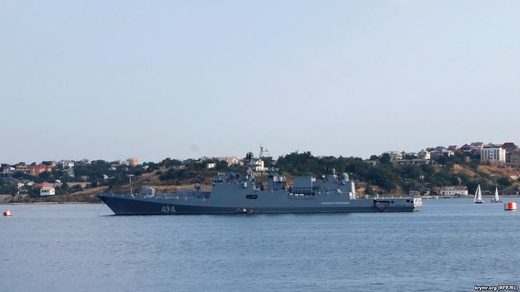 The head of Germany's Free Democratic Party (FDP) has said in an interview that Germany may need to accept the 2014 annexation of Ukraine's Crimea region as a "permanent provisional arrangement."
Christian Lindner told the
Funke Mediengruppe
newspaper chain on August 5 that the move might be necessary to allow Russian President Vladimir Putin to change his policies while still saving face.
"The conflict over the Ukrainian peninsula annexed by Russia must be 'encapsulated' in order to make progress in other areas," he said.
"We have to get out of the dead-end situation," he added. "To break a taboo, I fear that we must see the Crimea as a permanent provisional arrangement, at least for now."
In a video statement after the interview was published, Lindner stressed that recognizing Crimea's annexation was still unacceptable, the
Kyiv Post
reported.
According to the Tagesschau news website, Lindner's comments contradicted the FDP's official election platform.
"We Free Democrats are calling on the Russian government to put an immediate end to the illegal occupation of the Crimea and the war in eastern Ukraine," the platform says.
Lindner's remarks were sharply criticized by Gernot Erler, Germany's Russia policy coordinator and a member of the Social Democrats (SPD).
Erler told
Funke Mediengruppe
that Europeans had agreed to focus on ending the violence in eastern Ukraine before tackling the issue of Crimea in a political process at a later point.
"It would be helpful if Mr. Lindner would also stick to this agreement," he said. "A common European approach is imperative, especially in light of President [Donald] Trump's withdrawal from the previous consensus approach of the West."
The European Union and the United States imposed sanctions on Russia after it annexed Crimea in March 2014 and for supporting separatist fighters in eastern Ukraine.
Trump has indicated hopes of improving relations with Russia, although his administration has said there is no question of easing sanctions against Moscow until it pulls out of Crimea.
Political polls indicate the FDP could reenter parliament in the September 24 elections after dropping below the required 5 percent in the 2013 vote.
It is seen as a potential coalition partner for Chancellor Angela Merkel's ruling Christian Democratic Union (CDU), which is looking to govern without the need for an SPD alliance.