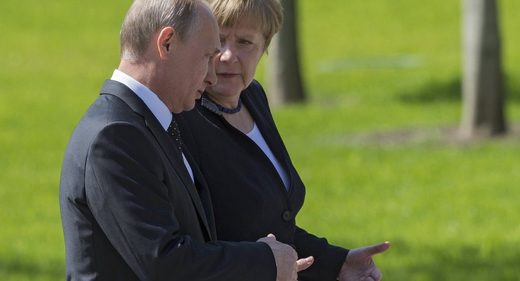 The Russian-EU relations will become more constructive amid the US decision to introduce new sanctions against Moscow, the Russian State Duma's International Affairs Committee Chairman Leonid Slutsky told the Rossiya 24 broadcaster.
On Thursday,
US Senate approved a bill
that would impose sweeping sanctions on Russia and seeks, in particular, to target companies that invest in Russian energy projects. The bill now has to be either signed or vetoed by US President Donald Trump.
France and Germany have so far
spoken out
against the bill as it affects European industries while advancing US commercial interests.
"I am sure that Europe will think more and more seriously and the Russian-EU relations... will be slowly but surely becoming more constructive," Slutsky said.
He pointed out that the European Union is not ready to copy the possible new US sanctions automatically.
"In terms of the common sense, this brings Russia closer to Brussels affected by its strategic friends from Washington, which [the US and the EU] unfortunately had serious differences on key issues within the last 12-18 months," Slutsky added.
The Russian Foreign Ministry
suspended the use of all US Embassy warehouses
and its compound in Moscow and also offered the US to cut down the number of its diplomatic staff in Russia to 455 people by September 1. Moreover, the ministry said that it reserves the reciprocal right to hit US interests in response to the US sanctions bill.
The decision was welcomed by chairman of the Russian upper chamber of parliament's Foreign Affairs Committee Konstantin Kosachev.
"Russia behaves like a responsible global power. Given that the notorious bill has not entered into force yet and the situation is developing, that [Russian response to foreign sanctions] must also take place in the future," Kosachev wrote on his Facebook page.
The lawmaker pointed out that Russia made everything possible to save its relations with the United States but the US inappropriate behavior resulted in the current state of bilateral ties.
On Thursday, Russian President Vladimir
Putin said
that Russia is behaving patiently amid sanctions, but
time will come when Moscow will be forced to respond to arrogance
, adding that if adopted, the US anti-Russia sanctions bill would be an "extra-cynical move."
In December 2016, the administration of former US President Barack Obama
imposed a set of punitive measures
against Russia, including the expulsion of 35 Russian diplomats and the closure of the two Russian diplomatic compounds. The actions were taken in response to Moscow's alleged interference in the US presidential election, which Russia has repeatedly denied.
Back in December,
Putin decided not to respond
to sanctions imposed by the outgoing US administration and act in accordance with the ties built with the new US leadership. However, since then, the diplomatic property hasn't been returned. Russian Foreign Minister Sergei
Lavrov said
earlier that Moscow would take retaliatory measures against Washington if the situation with Russia's diplomatic property in the United States was not resolved.