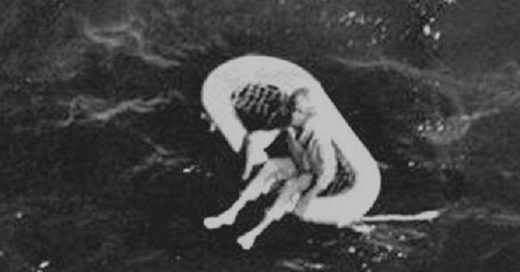 In 1961 a freighter sailed around the Bahamas as its crew spotted something incredible in the waters below. It was a young girl, close to death, drifting through the ocean on a tiny cork float. So just how had an 11-year-old child named Terry Jo Duperrault come to be lost alone in the Atlantic Ocean?
After all, little Terry Jo's visit to this part of the world was meant to be the trip of a lifetime for the Duperrault family. In fact, Dr. Arthur Duperrault, a 41-year-old eye doctor from Green Bay, Wisconsin, and his wife Jean, 38, had been saving their money for this trip for a long time.
Of course, the couple wanted to take their three children - Brian, 14, Terry Jo, 11, and Renee, 7 - on a journey that they would never forget. So they chartered a boat, the 60-foot ketch
Bluebelle
, to take them on a week's holiday from Fort Lauderdale, Florida, to explore the islands of the Bahamas.
On November 8, 1961, the ship set sail with the Duperrault family safely on board. One Julian Harvey was the captain of the ship, and he had brought his wife Mary Dene along for the ride, too. For four days, then, the trip went just as the Duperraults had planned.
During those idyllic days, the
Bluebelle
headed east, aiming for the small islands of Bimini. From there, the family hit Sandy Point, a community on the island of Great Abaco. Here was the perfect spot for the group to drop anchor and do a spot of snorkeling. They also gathered shells on the beautifully colored sands.
Toward the end of their stay on the island, Arthur Duperrault spoke with Roderick W. Pinder, Sandy Point's village commissioner. Reportedly, Duperrault casually commented, "This has been a once-in-a-lifetime vacation. We'll be back before Christmas." Of course, Duperrault didn't know it then, but his prediction would never be realized.
So the group set sail. And on the evening of November 12, with a full night's return sailing ahead, young Terry Jo Duperrault decided to retire to her cabin for an early night. However, her brother's cries woke her later in the evening, and she knew immediately that something was awry.
"I was awakened by my brother screaming 'Help, daddy, help,'" Terry Jo, who now goes by the name Tere Duperrault Fassbender, told
Fox News
almost 50 years later. "It was the type of scream that you know that something horrible is happening."
In fact, captain Harvey, a 44-year-old military pilot with a troubled past, had chosen that particular night to murder his wife of just four months. The reason? It was later revealed that Harvey had not long before taken out a life insurance policy on Mary Dene. Apparently, Harvey intended to dispose of Dene's body overboard and report her as lost at sea.
Interestingly, this wasn't the first time that Harvey had brutally lost a wife. In fact, it was later reportedly discovered that Harvey had made an extraordinary escape from a car crash that took the life of one of his five previous wives. What's more, Harvey had already received sizable insurance payments after both his yacht and his powerboat had sunk.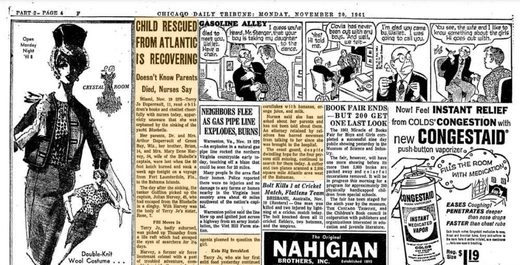 However, with this newest apparent scam, things didn't go quite to plan. In fact, Dr. Duperrault allegedly saw Harvey attacking Dene and intervened, only for Harvey to kill him. Desperate to get rid of any other witnesses to his crimes, Harvey then reportedly murdered the remaining members of the Duperrault family who'd been awake during the altercation. That left just Terry Jo sleeping in her cabin below.
When she emerged a few minutes later, Terry Jo has said that she found her mother and brother in a pool of blood on the cabin floor. Assuming they were dead, she then climbed up on deck to ask the captain what was happening.
However, Harvey allegedly pushed Terry Jo back below decks, where the girl returned to her bunk, cowering in fear. In fact, she said it wasn't until water began to fill her cabin that she ventured back up onto the deck.
Then Harvey, who had apparently opened up the ship's sea valves with the intention of scuttling the vessel, gave Terry Jo a rope attached to a dinghy to hold. Later, Terry Jo's friend Richard D. Logan would speculate that Harvey planned on murdering the girl as well.
Logan told
Today
, "When he saw her on deck, he realized 'Oh my God, there's a possibility that she might survive. I better kill her.' So he went forward to get a knife or something to kill her. But she did not hold onto the line."
Instead, Terry Jo dropped the rope, and Harvey allegedly dove into the sea to catch up with the dinghy. In effect, he abandoned her on the sinking ship. But the newly orphaned girl was a lot tougher than she looked.
Terry Jo said that she unfastened a tiny cork float from the boat and sailed away on it just as the
Bluebelle
disappeared beneath the waves. Thereafter, wearing just a light blouse and rosy pants, she was at the mercy of the elements. At night, she would have been freezing cold. In the day, the sun would have glared down hard and potentially scorched her skin.
With Terry Jo drifting alone in the middle of the ocean, the odds were obviously slim that a passing plane or vessel would catch sight of her. But, one day, a small aircraft apparently passing overhead raised her hopes. Alas, however, the pilots did not spot her.
That said, someone - or rather something - had spotted her. One afternoon Terry Jo reportedly spied mysterious forms beneath the ocean's surface, near to her raft. Coming closer, a panicked Terry Jo was soon relieved when she saw that they were only porpoises.
However, the harsh environment soon took its toll, and Terry Jo began to hallucinate. At one point, for instance, she imagined a small, barren island up ahead. But when she attempted to splash toward it, the island sadly vanished. At last, Terry Jo collapsed into oblivion.
But all was not lost. Eventually,
Captain Theo
, a Greek freighter passing through the Northwest Providence Channel that cuts through the Bahamas, discovered and rescued Terry Jo. She was near death, with a fever of 105 ºF and suffering sunburn and severe dehydration. One of the crew snapped a photograph of her frail form floating in the tiny boat on a vast ocean. It subsequently made headlines around the world.
Three days previously, the coastguard had found Harvey floating in
Bluebelle
's dinghy along with Renee's dead body. The killer claimed that a sudden storm had battered the ship and sparked a fire, ultimately sinking the vessel. He also said that he had unsuccessfully attempted to revive the girl after finding her in the water.
However, soon after news of Terry Jo's rescue had reached him, Harvey took his own life. In fact, police discovered his lifeless body behind his hotel room's bathroom door.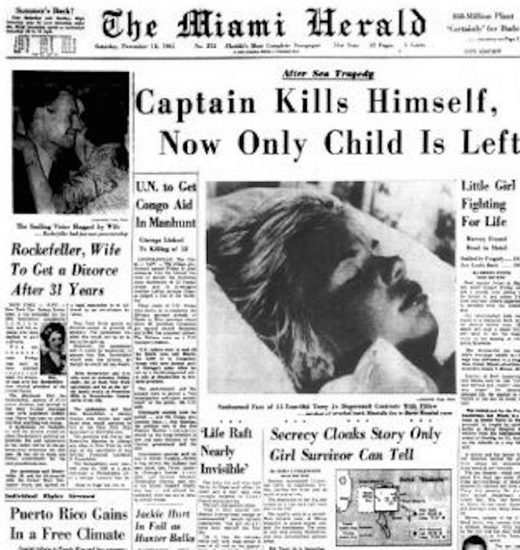 Meanwhile, Terry Jo recovered from her horrific ordeal in a Miami hospital. And finally, some seven days after her dramatic rescue, police officials were able to talk to the brave little girl. It was then that Terry Jo gave her first account of that terrible night.
Terry Jo's family later memorialized the deceased at the Fort Howard Memorial Park, Wisconsin. The plaque there states, "In memory of the Arthur W. Duperrault Family; Lost off the Bahama Isles Nov. 12, 1961. Found in the hearts of their loved ones, dwelling forever with him who is eternal life. Blessed are the pure in heart, for they shall see God."
However, life for Terry Jo went on. After being released from hospital, she went back to Green Bay, Wisconsin, to reside with her aunt and her aunt's three children. For the next 20 years, though, she didn't speak to anyone about the traumatic events of November 1961.
Then, in the 1980s, she began to open up to a few close friends about what she had experienced. This led her to seek psychiatric care and later co-author a book with Logan called
Alone: Orphaned on the Ocean
; in it, she discusses her experiences in depth. Terry Jo finally published the book in May 2010, almost half a century after her ordeal took place.
Incredibly, during signings for the book, people from Terry Jo's past turned up. In an interview with
48 Hours
, she said, "We had a book signing last month and some of my teachers from 49 years ago showed up, just to see that I was alright after all these years. They said they were sorry for not being able to talk to me and help. In those years they were told to pretend like it never happened. I learned to live with staying quiet."
Terry Jo also reflected on her childhood ordeal in an interview with
Today News
. "I was never frightened. I was an outdoors child, and I loved the water," she said. She added, "I had strong faith. I believed in God and I prayed for him to help me, and I just went with the flow."
In fact, Terry Jo still works around water today. She has also credited the book as the culmination of her healing process. Furthermore, she hopes that it will help other people looking to overcome incidents of tragedy in their own lives. "I always believed I was saved for a reason," she said in an interview with
48 Hours
. "But it took me 50 years to gain the strength to be able to give other people hope with my story."