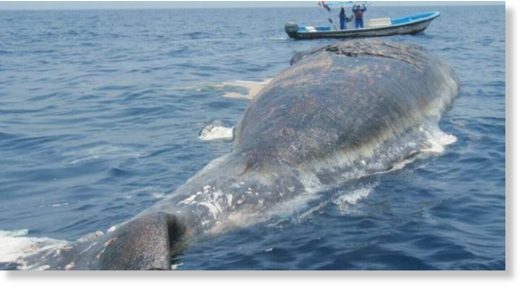 A 20-metre long whale weighing 30 tonnes was found dead three miles off the coast of Fujairah.
A top official at the Fujairah Municipality said they were notified about the whale by the Fujairah Port Authority. A specialised team from the municipality's environment department then managed to drag the giant whale to the shore using special tools. The official said: "We do not yet know what kind of whale it is, but we do know it belongs to the region and is an endangered species," he said.
The partially decomposed cadaver of the mammoth creature was spotted after a foul smell carried to the coastline. The municipality is working on disposing off the carcass in a safe way with help of the Ministry of Environment and Climate Change and the Fujairah Department of Public Works.
Experts are yet to find out the cause of death. "We don't know how or why it died. It is decomposed and it seems like it died several days ago," the official said.