Grace Tedeschi, 11, who has selective mutism, won a legion of fans with viral video.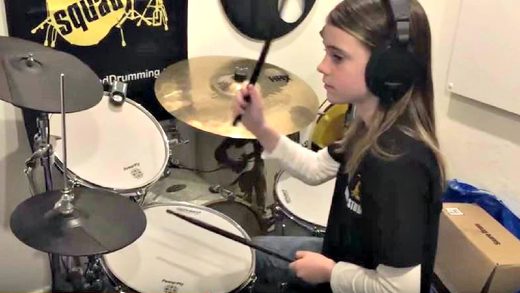 A young girl who does not speak but "talks" through drums has been left beaming after a video of her playing attracted loads of new fans.
Grace Tedeschi, 11, who lives in Inverkip on Scotland's west coast, has Asperger syndrome and selective mutism, meaning even her own music teacher has never heard her speak.
When tutor Lesley McLaren posted a video of Grace drumming online, she was startled to see her young student receive an overwhelming amount of supportive messages from music lovers. After rocking out to
Old Enough
by the Raconteurs, Grace was encouraged by kind strangers to "keep on drumming" as well as being called "a wee pocket rocket" and an "amazing" drummer.
"My phone has been pinging away with people leaving Grace positive messages," says Lesley. "It's a wonderful thing for her, especially for someone who cannot communicate well, to hear all these lovely things from people.
"I know her mother has been reading her the messages and I just want to say a huge thank you to everyone who has said such lovely things to her." Grace, described as a "shy but friendly" girl by her mother Lou, is said to be delighted. "It's been a big confidence boost for her," says Lou, who works a nurse. "It's difficult for her teacher, because Grace can't speak, and we're just so proud of how far she's come."
Selective mutism, is an anxiety disorder in which a person who is normally capable of speech does not speak in specific situations or to specific people. Asperger syndrome is part of a range of developmental disorders known as autistic spectrum disorder, or ASD. These disorders begin in childhood and stay with the person into their adult life. Around one in 100 people in the UK are thought to have ASD.
Although Grace will not speak to adults, she does communicate with her little sister, Eva, and has taught her how to drum too.
"Eva also has Asperger syndrome and the pair are really close," says Lou. "They look out for each other."
Grace's parents first got her a drum kit when she was five and when she would not budge from it they realised she had a talent music. Since taking on music classes, Lou says she has seen her daughter's confidence soar, especially after receiving so many messages online from those listening to her play.
"It's been a big boost for her, Lesley is outstanding and I can't praise her enough," says Lou. "And having those lovely comments from people, that's one of the best things. The kids feel like wee celebrities."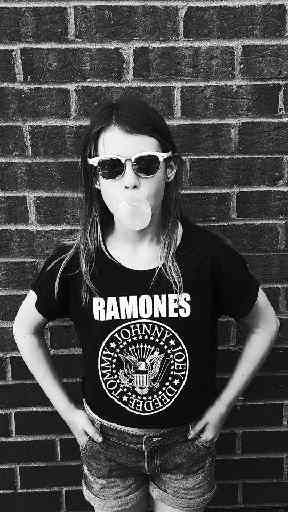 Although Lesley has been teaching Grace since she was six she has yet to hear her speak as she only converses with a select few people in her family. Despite that, Lesley says the pair manage fine in classes with the tutor able to read Grace's facial expressions and eye movements.
"We don't know how it works but it does," says Lesley. "My hope for Grace is that I wouldn't ever pressure her to work in music but I know she has the ability to do that if she wanted to.
"I just hope she keeps drumming in her life. It will help her make friend and get the same enjoyment from music as we all do.
"She may even go on to tour herself in a band one day. She can go on to become anything she wants to be."