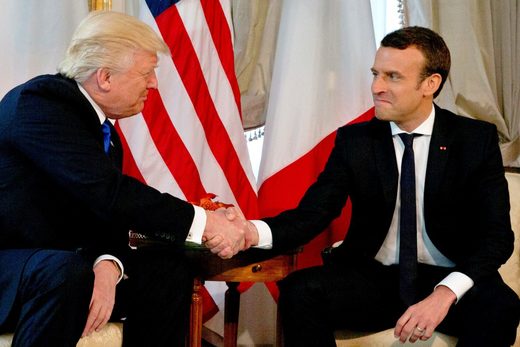 Trump and Macron meet for first time in Brussels.
During their first meeting in Brussels, US President Donald Trump and French President Emmanuel Macron engaged in a power struggle handshake that mainstream media hailed as a victory for the globalist beta male Macron over Alpha dog Trump
.
When Trump tried to disengaged from the handshake first and Macron continued to hold onto Trump's hand,
the media was taken aback by what they saw as the young French President's resolve and confidence
.

Comment: When in actuality, in any other situation, Macron's behavior would be described as awkward and not adhering to social norms. He wouldn't earn respect, but would be avoided and thought of as a weirdo which, in reality, is likely to be how his presidency will proceed.


Relishing in his beta male victory over Trump, establishment puppet Macron told France's
Le Journal du Dimanche
, that his handshake showdown with Trump was "a moment of truth", designed to show that he's no pushover.
The AP reports
that Macron told a Sunday newspaper in France that "my handshake with him, it wasn't innocent."
Macron said that he wanted to "show he would not make small concessions, not even symbolic ones, but also not overdo things".
"Donald Trump, the Turkish president or the Russian president see things in terms of power relationships, which doesn't bother me. I don't believe in diplomacy through public criticism but in my bilateral dialogues I don't let anything pass. That is how you get respect."