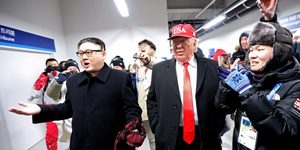 Did The Donald and Rocket Man secretly meet at the Winter Olympics in PyeongChang?
When a man knows he is to be hanged in a fortnight, it concentrates his mind wonderfully.
- Samuel Johnson
Recent Comments
heh, seems some folks don't like hearing the truth.
---
Wow is right! Don't you love articles like this one because they offer a relatively simple alternative which can be easy to try? Nice!
---
The strategic imperative is to build smooth connections across the continent, converging on its Pacific coastline - and forward through maritime...
---
I had a tabby cat who was born with 2 hearts (seriously). They were also upside down. He lived for 26 years & died only because of a freak...
---
This article finishes with saying the North will have to "denuclearize" to win the day and freedom for their country... How would that work? If...