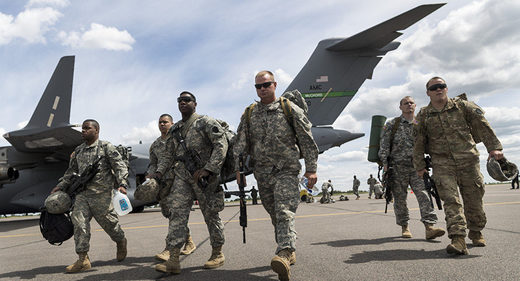 The Pentagon ostensibly plans to provide Russian language courses to the United States National Guard in an effort to fuel internal divisions in the country, political analyst Araik Stepanyan told Radio Sputnik, adding that such training is not a "novel phenomenon."
"In the late 1980s, the United States trained experts on Soviet Republics, including Armenia, Georgia and the Baltic states, who were tasked with 'undermining' the Soviet Union. They are currently doing the same with regard to Russia through Russian language courses. I think that they are preparing experts for subversive activities on Russian territory. They are training those who would write articles, come to Russia as volunteers, setting up non-governmental organizations supposedly aimed at teaching democracy. These efforts would in reality be aimed at sowing discord among different ethnicities living in Russia. They will be looking for weak spots, including existing ethnic tensions," the analyst
explained
.

Comment: But everyone knows the U.S. never meddles in other countries. Only the evil Russians do that.


Earlier, media reports suggested that the US Army was looking for a contractor to provide Russian language courses to the United States National Guard at a facility in Birmingham, Alabama. The courses are supposedly expected to last from three to six weeks.
The US Department of the Army published a solicitation titled "Central/South American Spanish, Russian, French and Arabic Languages" on the Federal Business Opportunities website on May 17. It was canceled less than 24 hours later.
Some of the objectives listed in the solicitation included teaching the students military terminology and the practical application of command terms. In addition, instructors were supposed to provide an overview of regional cultural awareness, including important dates and personalities.
Six-hour long classes are expected to be held from Monday until Friday with the exception of federal holidays.
Interestingly, although the solicitation was canceled, the US Department of the Army, according to RT,
has found
a contractor.