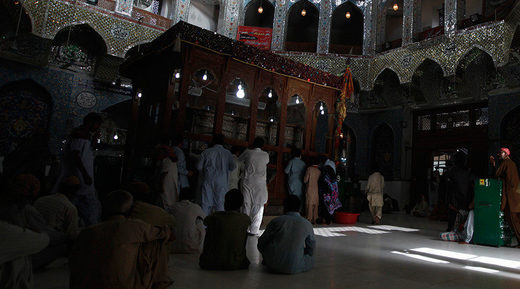 At least 30 people have been killed and 100 others wounded in a suicide bomb attack on a shrine in Pakistan, according to local media. Islamic State (IS, formerly ISIS/ISIL) has claimed responsibility for the attack.
The suicide bomber entered the Lal Shahbaz Qalandar shrine in the city of Sehwan Sharif through its golden gate, according to local authorities cited by Dawn news outlet.
The explosion took place at the spot where a ritual known as dhamaal was being performed.
"The blast occurred within the premises of the shrine. We have declared emergency in hospitals and are shifting the injured to nearby hospitals," Deputy Commissioner Munawar Mahesar told ARY News.
However, commissioner Hyderabad Kazi Shahid Parvez told
The Express Tribune
that the blast occurred "outside the mazar [shrine] where Golden Gate is located."
The attacker blew himself up after throwing a grenade which failed to explode, according to the assistant superintendent of police.
Taluka Hospital Medical superintendent Moinuddin Siddiqui confirmed to Dawn that at least 30 bodies have been brought to the facility, and stated that the injured are being transported to other hospitals. Geo TV also reports at least 30 fatalities.
However,
The Tribune Express
cited Siddiqui as stating that at least 50 people have been confirmed dead.
Samaa TV reported that at least 43 people were killed in the attack.
IS has claimed responsibility for the attack
, according to the group's affiliated news agency, AMAQ, as cited by Reuters.
Pakistan's prime minister, Nawaz Sharif, has condemned the violence.
The shrine is built around a tomb of Lal Shahbaz Qalandar, a Sufi poet and philosopher. Large crowds gather at the shrine every Thursday to participate in dhamaal and prayers.
The blast is the latest in a series of attacks to hit the country this week.
A suicide bomber targeted a government office in the Mohmand tribal area on Wednesday, while a separate attack on the same day targeted government employees in Peshawar. Six people were killed in total.
On Tuesday, two police officers were killed while trying to defuse a bomb in Quetta.
Thirteen people were also killed in a suicide bombing at a rally in the eastern city of Lahore on Monday.