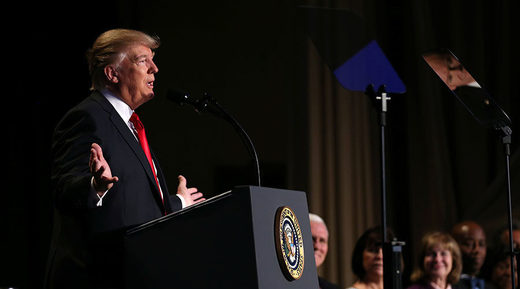 At the National Prayer Breakfast, President Donald Trump repeated a campaign promise, vowing to end the federal law that restricts political speech and activity by churches and other tax-exempt organizations.
"I will get rid of and totally destroy the Johnson Amendment and allow our representatives of faith to speak freely and without fear of retribution," Trump said Thursday,
according
to the
New York Times
, adding that "freedom of religion is a sacred right, but it is under serious threat."
The Johnson Amendment is a 1954 law that bars
tax-exempt
organizations such as religious groups, including churches, as well as those that are "educational, scientific, literary, testing for public safety, fostering national or international amateur sports competition, and preventing cruelty to children or animals," from engaging in open endorsement of or campaigning for political candidates, among other political activities.
These organizations "may not attempt to influence legislation as a substantial part of its activities and it may not participate in any campaign activity for or against political candidates." according to the Internal Revenue Service, which enforces the law.
If a 501(c)(3) tax-exempt organization is found to have engaged in political activity, it risks losing its tax-exempt status under the Johnson Amendment. Congress, currently dominated by Republicans, would be required to pass such a measure lifting the ban.
Trump first stated his desire to abolish the law during his campaign for president,
saying
in June that Congress, following an anti-McCarthyism proposal by then-Senator Lyndon Johnson (D-Texas), "passed something that makes people very, very nervous to even talk to preserve their tax-exempt status. It's taken a lot of power away from Christianity and other religions."
However, since 1954, there have been no instances in which a church has actually lost its tax-exempt status for dabbling in political activity, Vox
pointed
out in November.
Nevertheless, during his June closed door
meeting
with evangelical leaders, Trump associated the Religious Right's waning influence on US politics with the Johnson Amendment.
"You talk about religious liberty and religious freedom. You really don't have religious freedom, if you really think about it," he said, later adding: "I can tell you, I watched this during the last year, and I watched fear in the hearts of brave, incredible people. And we are going to get rid of that, because you should have the right to speak."
Trump also mentioned the law during his speech at the Republican National Convention in July, saying "an amendment, pushed by Lyndon Johnson many years ago, threatens religious institutions with a loss of their tax-exempt status if they openly advocate their political views."
In addition, during the final days of the presidential campaign, Trump's running mate Mike Pence recorded a pitch to evangelical congregants that was shown in churches across the US.
In the ad
, Pence promised Christians that a potential Trump administration would nominate Supreme Court justices who would adhere to conservative views on religious freedom to discriminate and on abortion. He also vowed an end to the Johnson Amendment.
"The Johnson Amendment has literally been on the books since the 1950s and it essentially threatens tax-exempt organizations and churches with losing their tax status if they speak out against important issues facing the nation from the pulpit," Pence said.
During the prayer breakfast, a meeting hosted by Congress and attended by a wide range of guests, Trump also defended his visa ban on citizens from seven Muslim-majority nations, suggesting that the order will quell Islamic terrorism in the US while ensuring safety and security.
"Terrorism is a fundamental threat to religious freedom," he said. "It must be stopped and it will be stopped."
Trump also spoke of Christianity in his own life, including recollections of his mother reading the Bible to him as a child.
"America is a nation of believers," he said. "The quality of our lives is not defined by our material success, but by our spiritual success."
On Wednesday,
The Nation
reported
on a leaked copy of a draft executive order that indicates the Trump administration's strong support for so-called religious freedom.
The order, titled "Establishing a Government-Wide Initiative to Respect Religious Freedom," protects "religious freedom" in a variety of forums, including "when providing social services, education, or healthcare; earning a living, seeking a job, or employing others; receiving government grants or contracts; or otherwise participating in the marketplace, the public square, or interfacing with Federal, State or local governments."
These exemptions would allow for widespread discrimination based on objections to sexuality, premarital sex, abortion and other reproductive health care, and gender identity, The Nation reported.
Trump did not mention the order during his prayer breakfast appearance.