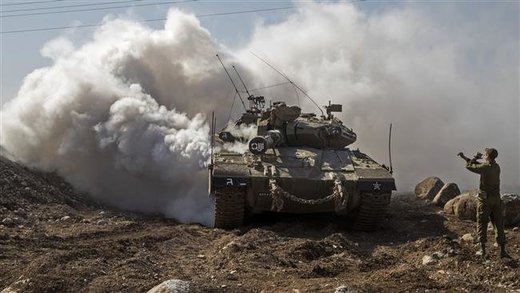 An Israeli tank has shelled south of the besieged Gaza Strip after an alleged gunfire attack from the Palestinian coastal enclave targeted the occupied territories.
The tank shelling, which resulted in no casualties, hit an observation post belonging to the Palestinian resistance movement, Hamas, on Sunday,
said the Israeli military in a statement, claiming that the rounds had been fired shortly after alleged shots from the enclave targeted an Israeli military vehicle.
It further said that the vehicle had sustained damage, but no one was wounded, while it was working near the border fence.
Hamas's interior ministry confirmed the Israeli aggression in a statement, saying that the tank shells had hit the post in al-Fukhari area near the border with Israel.
It, however, added that Israeli tanks and bulldozers had earlier crossed the border.
Israel continues to carry out attacks on the Palestinian coastal sliver from time to time.
Israeli warplanes frequently bomb Gaza. The Israeli military also uses drones over the impoverished region to monitor and photograph Palestinian military units in the blockaded coastal enclave or launch aerial attacks.
Back in August, Tel Aviv targeted Gaza with dozens of airstrikes and tank shelling after a rocket allegedly hit Sderot.
Israel has waged three wars on Gaza since 2008, including the 2014 offensive, which left more than 2,200 Palestinians dead and over 11,100 others injured.
Gaza has been under an Israeli siege since June 2007. The blockade has caused a decline in the standard of living as well as unprecedented levels of unemployment and unrelenting poverty in the Palestinian coastal enclave.