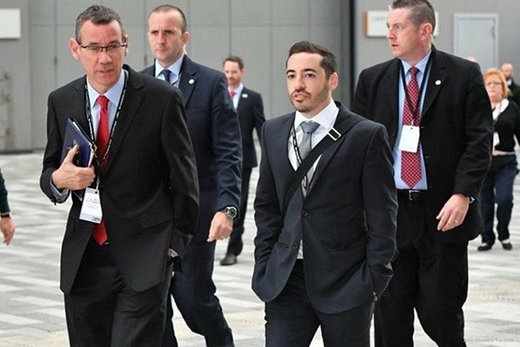 An Israeli embassy official in London who was caught on camera by Al Jazeera talking about
"taking down"
British government ministers has been fired from his post by the Israeli Ministry of Foreign Affairs, Al Jazeera confirmed today.
Comment:
Israeli embassy official behind 'take down' plot resigns
A disgraced Israeli embassy official who was caught on camera talking about "taking down" a British minister has resigned from government service.

Shai Masot, a senior political officer in London, stood down several days ago when he was sent back to Israel, according to the Guardian.

A spokesperson for Israel's foreign ministry told Middle East Eye that Masot would have no further contact with the ministry. "We consider that this scandal is now done and behind us," the spokesperson said.
Shai Masot, a senior political officer in London, stood down several days ago when he was sent back to Israel, according to the
Guardian
.
Shai Masot, who worked at Israel's embassy in London as a "senior political officer", also boasted of setting up political youth organisations in the UK to promote Israeli interests and talked about a "hit list" of MPs, also featuring Conservative Crispin Blunt, the chair of the parliamentary foreign affairs committee.
The embassy has sought to distance itself from Masot's activities, with
Ambassador Mark Regev describing him as a junior member of staff whose comments were unacceptable.
However, the Al Jazeera investigative report that blew the story wide open, called
The Lobby,
showed
Masot's business card which described him as a

"senior political officer"

.
Masot was also caught talking about British officials using highly undiplomatic language, including calling the British Foreign Secretary Boris Johnson an "idiot".
He also said that Deputy Foreign Minister Sir Alan Duncan was causing "a lot of problems" and that was seemingly his motive for wanting to "take down" the senior British official.
The Al Jazeera report also connected the Israeli diplomatic mission to the UK to a number of other activities designed to influence policymakers both now and in the future. This included support for various university groups and societies deemed to be pro-Israeli.
Activists linked to the Israeli embassy were also reported to be attempting a
plot to oust the president
of the National Union of Students, Malia Bouattia.
After the scandal was blown open, Masot was immediately withdrawn by the Israeli government and returned home where it is now understood he has been formally dismissed.
The diplomatic scandal is now considered as "closed" by the British government, who accepted Israel's apology. However, the Scottish National Party (SNP) called for the UK to
expel Masot
last week.
"It is completely unacceptable for the UK government to declare the matter closed," former SNP leader and current foreign affairs spokesman Alex Salmond said. "Shai Masot must go, and go immediately before the end of his tenure at the Israeli Embassy."
The SNP's calls have led others to demand that the British government do more to contain pernicious Israeli influence on UK policymaking.