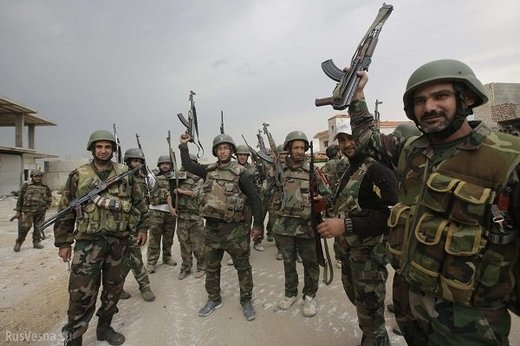 As three more previously Al-Qaeda held districts in eastern Aleppo fall to the Syrian army authoritative reports circulate that Jihadi commanders in the city are negotiating with the Syrian military to surrender.
Further reports from Aleppo - confirmed by the Russian Defence Ministry - show that the pace of the Jihadi collapse in eastern Aleppo is accelerating.
Over the course of the day the Syrian army has recaptured the formerly Jihadi held districts of Sheikh Lutfi, Mejah and al-Shair, whilst it seems that Al-Qaeda has ordered all Jihadi fighters to retreat from all areas north and east of the Aleppo citadel. This slices off another area in the northern part of the former Jihadi pocket in eastern Aleppo, and reduces the area of Jihadi control in eastern Aleppo to a few districts in the city's south east.
There are now more and more reports of Jihadi commanders in eastern Aleppo negotiating with the Syrian military for their surrender and for the surrender of their fighters.
One of these reports has appeared in the semi-official Syrian newspaper
Al-Watan
, which makes it look authoritative.
Another such
report
has been broadcast by the commentator Israel Shamir on Radio Sputnik. Israel Shamir was the only commentator who to my knowledge accurately predicted the Russian intervention in Syria last year, and his reports on Middle East questions can be treated as authoritative.
Irrespective of the diplomacy that is going on in
Geneva
and at the
UN Security Council in New York
, it is increasingly looking as if the
report of two days ago
of the Jihadi commanders in eastern Aleppo telling their nominal chief, the Saudi cleric Sheikh Abdullah Muhammad al-Muhaysini, that eastern Aleppo would fall within two days unless outside help arrived within that time, was intended to prepare the way for their surrender. The latest reports suggest this may now be underway.