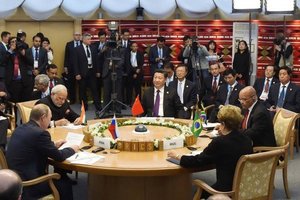 China's Ministry of Commerce (MOC) said Sunday a free trade area would be "a significant form of cooperation" between BRICS nations.
By setting up a free trade area, BRICS countries would be able to remove tariff and non-tariff barriers, give play to their comparative advantages, and advance trade and investment liberalization between them, MOC spokesperson Shen Danyang said at a press briefing.
The official comments came ahead of the 8th BRICS Summit in Goa, India where the five leaders will hold discussions on increasing intra-BRICS trade and investment.
The Chinese Ministry of Commerce spokesperson noted that China has not formally raised the issue for an upcoming BRICS meeting, but many experts have proposed a free trade area.
A free trade area would help BRICS nations — Brazil, Russia, India, China and South Africa — achieve mutual benefit and development and promote South-South cooperation on a global scale, Shen said.
BRICS global exports amounted, in 2014, to $3.48 trillion.
BRICS trade ministers will meet in New Delhi, India later this week to discuss world economic trends and their influence on BRICS trade and investment.
The meeting is expected to deepen cooperation in areas including intellectual property rights, trade promotion and small businesses, according to Shen.
The BRICS countries, which
account for
more than a quarter of the world's economic output, had set up their own multilateral institution headquartered in Shanghai to fund infrastructure projects. The New Development Bank is currently headed by an Indian.
A working group is also currently studying the feasibility of setting up a new BRICS credit-rating company in an effort to break the dominance of the big three developed-nation firms: Fitch, S&P and Moody's. Developing nations have long complained that they receive harsher assessments than their developed counterparts.
The working group will submit its observations during the India summit where Indian Prime Minister Narendra Modi will host his BRICS counterparts: Brazil's Michel Temer, China's Xi Jinping, South Africa's Jacob Zuma and Russia's Vladimir Putin.