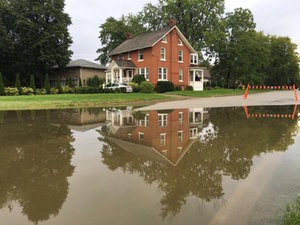 Mayors in Windsor and Tecumseh, Ont., declared a state of emergency for their communities after massive flooding hit the region Thursday.
More than 190 millimetres of rain fell in Tecumseh, while 80.8 millimetres of rainfall was recorded in Windsor between 9 p.m. Wednesday and 5 p.m. Thursday.
Another 70 millimetres is expected to hit the region Thursday evening and into Friday, and a flood warning remains in effect.
"This is beyond the reasonable capacity of the city to handle," Windsor Mayor Drew Dilkens said at a news conference Thursday afternoon. "It's beyond the capacity of the residents to handle."
Dilkens said damage to homes and businesses will be overwhelming, and he plans to ask senior levels of government for help.
Basements and streets in Windsor and Tecumseh flooded as rain pummelled the region. Dilkens and Tecumseh Mayor Gary McNamara said they have never seen a storm like this one.
"This wasn't a one-in-10-year storm. It wasn't even a one-in-100-year storm," Dilkens said.

"I've never seen anything that intense in the 35 years I've been in this region," McNamara said. "This is unprecedented."
Windsor received 700 flood-related calls to its 311 service centre, which saw call volumes triple the normal level. Dilkens reminded residents to keep calling if they get a busy signal. The 311 service centre will continue accepting calls until 11 p.m. Thursday.
Windsor's fire department reported responding to 92 incidents during the storm.
Hundreds of residents in the communities reported flooding in their basements. John and Matilda Adams first discovered flooding at 7:30 a.m. They tried using two pumps to clear the water at their home, but that wasn't enough. Eventually they had to install four pumps in an effort to keep the water at bay.
"We tried to do our best," John Adams said. "But we couldn't keep up. We were just panicking really."
"What can you do when something like this happens?" Matilda Adams said.
Dilkens wants to tap into a provincial emergency fund to help those residents, saying officials will apply to see if the city is eligible. With more rain in the forecast Friday, Dilkens said provincial inspectors would likely assess the situation when the storm moves through on the weekend.
"We want to do everything we can. We're not shirking our responsibilities," he said.