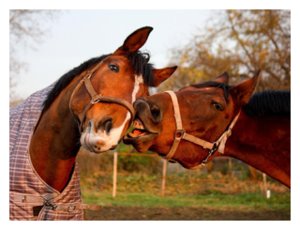 Horses can be trained to communicate with humans to express their feelings and opinions, scientists have discovered.
Past research has confirmed that some species of animals, including apes and dolphins, can learn to communicate preferences by pointing at symbols, much like humans.
Contrary to previous expert opinions, it is now believed that horses are intelligent enough to tell their riders whether or not they want to wear a rug.
Using slices of carrot as an incentive, scientists from the Norwegian Veterinary Institute worked with a horse trainer to teach 23 horses of various breeds how to signal if they were too hot or too cold.
First, each horse was trained to approach a board hung on a fence and touch it with its muzzle.
The horses were then shown how to tell the difference between different symbols marked on the board to indicate the notion of "blanket on" (a horizontal bar), "blanket off" (a vertical bar) and no change (blank).
Finally, each horse was taught to associate a particular action with each symbol.
Hot and cold temperature challenges were performed in order to help learning and determine the animals' level of understanding.
Although the speed of learning varied, by the end of the two-week training scheme all 23 horses were able to go up to the board and indicate whether they wanted a rug to be put on or taken off.
Horses tended to request blankets in wet, windy and cold weather, but went without when the weather was warmer and there was no need for a rug.
Researchers said the results demonstrated the animals were motivated to make their own choices, and not rely on that of a trainer.
Speaking to the BBC, Dr Cecilie Mejdell of the Norwegian Veterinary Institute said: "I think our study adds to the knowledge on horse cognition - about what horses are able to learn and how they think."
"Horses are often considered to be not very intelligent but this shows that using the right methods they can actually communicate and express their opinions and they can take choices that seem sensible to us even."
The study, published in the
Applied Animal Behaviour Science
journal, deduces that ordinary horse owners will be able to train their horses in a similar way in order to ask the animals for their own preferences.
Karen McComb, professor of animal behaviour and cognition at the University of Sussex, said the training method would be useful in animal welfare.
"This is a really interesting and innovative study that has conceived a very novel way of getting at what is going on in the mind of the horse," she said.