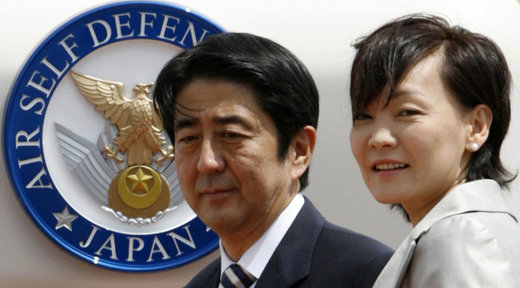 Japan's first lady Akie Abe says she is "ready to face criticism" after attending an anti-government rally, protesting the construction of new helipads at the US-operated military in Okinawa.
"This is my first step to create a world of love and harmony," Akie Abe wrote in a Facebook status update.
Abe said she did not inform her husband in advance about what is bound to be seen as a controversial endorsement of the protests, which have been ignored by Tokyo.
The helipads are being constructed as compensation for a 1996 agreement, in which the US would hand back 4,000 hectares out of the 7,800 that constitute the training area, providing six new landing spots would be built on the remaining land.
Construction began in 2007, yet so far only two have been completed, after an unending series of protests and legal challenges.
Work has recently restarted, but residents of the nearby village of Higashi - who say that the helipads will be too close to residential areas - have blockaded roads, prevented trucks carrying materials from entering the construction site, and staged sit-ins.
They have also become the focal point of an internecine battle between the Defense Ministry and Okinawa Governor Takeshi Onaga, who says that the government has "undermined the trust of the area's residents" by forcing through the unpopular project.
The governor and Tokyo are also fighting a bigger battle, over the mooted relocation of the existing Okinawa facility to a less crowded area of the prefecture. Onaga has blocked the building work there, and is currently in a legal dispute with the government.
Nearly three quarters of US military resources in Japan are located on the small archipelago to the south of most of Japan's islands, and residents say they have long been inconvenienced by the base, which was constructed following the country's defeat in World War II.
Whether Akie Abe can swing the debate is uncertain, but the 54-year-old wife of the premier is becoming a notable figure in Japanese politics.
Officially, there is no First Lady status for Prime Minister's wives in Japan, and traditionally they have barely featured even in a ceremonial role.
But Akie Abe, a former socialite and DJ, has broken the mold, using her Facebook fanbase to highlight preferred causes, her soft and modern persona working as a contrast to her hard-edged husband.
Straight after the Okinawa visit, Akie Abe traveled to Fukushima, to highlight the plight of the victims of the 2011 nuclear disaster.