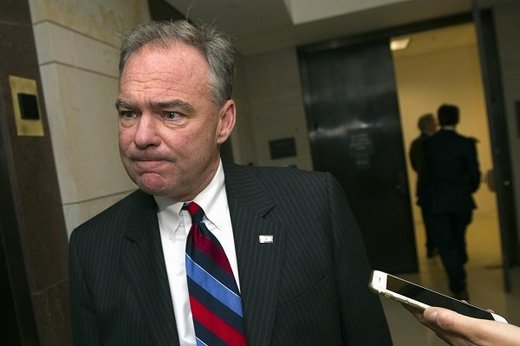 Hillary Clinton is having a bad day, to say the absolute least. On the day she set aside to announce her Vice Presidential selection, Julian Assange and Wikileaks posted leaked DNC emails proving the DNC forced Bernie out and attempted to ruin Trump with sultry lies.
Today, Clinton chose Virginia Senator Tim Kaine. Her announcement clearly marred by Assange's revelations of the DNC's indiscretions. But worse more, Kaine has a history of sinister idealogy. In fact, he once forced sixth grade girls to take Gardasil shots, according to a 2007 article from the
Washington Post
.
RICHMOND, March 2 — Virginia Gov. Timothy M. Kaine said Friday that he has decided to sign legislation requiring all sixth-grade girls to get immunized against a virus that causes cervical cancer
In 2006, Kaine accepted $12,000 from Teva Pharmaceuticals TEVA to cover his expenses at the Democratic Governors Association meeting. A third of his donations come from big banks, or "securities and investments." In Virginia, accepting gifts from special interest is considered a non-issue.
"During his eight years as lieutenant governor and governor, Sen. Kaine went beyond the requirements of Virginia law, even publicly disclosing gifts of value beneath the reporting threshold," a spokesperson told Politico. "He's confident that he met both the letter and the spirit of Virginia's ethical standards."
According to
CBSNews
:
The disclosures showed he received an $18,000 Caribbean vacation from Virginia-based tech investor James Murray, Jr., and in 2007 received $5,500 in clothing from Stuart Siegel of S&K Menswear, a company that declared bankruptcy in 2009. Teva Pharmaceuticals gave $12,000 for expenses incurred for the Democratic Governors Association meeting in Aspen in 2006. Obama for America had the largest disclosure - $45,075 for travel and lodging related to the 2008 presidential campaign.
This man is openly corrupt, which makes him perfect for Hillary Clinton's team.