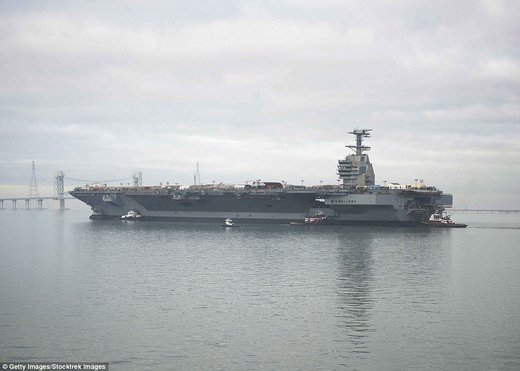 The most expensive warship ever built has been delayed from hitting the front line because it is reportedly not ready for battle.
The $12.9 billion USS Gerald R. Ford Navy supercarrier - the first of three in its class with a total cost of $43 billion - could potentially struggle with planes landing and taking off, moving military weapons and being able to successfully defend itself, a memo obtained by
Bloomberg News
reads.
The memo allegedly states 'poor or unknown reliability issues' were identified in a letter dated June 28.
'These four systems affect major areas of flight operations,' Defense Department Director of Operational Test and Evaluation Michael Gilmore wrote to Pentagon and Navy weapons buyers, according to Bloomberg News.
'Unless these issues are resolved, which would likely require redesigning, they will significantly limit the CVN-78's ability to conduct combat operations.
'Based on current reliability estimates, the CVN-78 is unlikely to conduct high-intensity flight operations at the outset of a war.'
It comes after Senator John McCain slammed an announcement earlier this month that stated the ship will not be rolled out until at least November this year - more than two years after its original intended date of September 2014.
'The Navy's announcement of another two-month delay in the delivery of CVN-78 further demonstrates that key systems still have not demonstrated expected performance,' McCain said in a statement.
'The advanced arresting gear (AAG) cannot recover airplanes. Advanced weapons elevators cannot lift munitions. The dual-band radar cannot integrate two radar bands. Even if everything goes according to the Navy's plan, CVN-78 will be delivered with multiple systems unproven.
'This situation is unacceptable and was entirely preventable. After more than $2.3 billion in cost overruns have increased its cost to nearly $13 billion, the taxpayers deserve to know when CVN-78 will actually be delivered, how much developmental risk remains in the program, if cost overruns will continue, and who is being held accountable.'
When it is finished, the giant 1,106-foot USS
Gerald R. Ford
will be able to launch 220 airstrikes per day from its two runways, hold 4,000 sailors and marines, and be virtually invisible to enemy radar.
The ship is able to launch so many airstrikes - one almost every six minutes - because the deck uses electromagnetic force to propel the jets forward. It is a similar method as used on roller coasters.
Construction of the vessel began in Newport News, Virginia, in 2007, with Huntington Ingalls Industries tasked with building the ship.
In 2013, the cost of building the ship was estimated at $12.8 billion, about 22 per cent over the initial 2008 budget. An additional $4.7 billion was also spent in research and development.
As of June, the warship's construction was said to be 98 per cent complete.
Partly due to its spiraling cost, the state-of-the-art carrier has provoked strong criticism from some quarters, including the government's own watchdogs.
In 2013, the Government Accountability Office wrote: 'Key ship systems face reliability shortfalls that the Navy does not expect to resolve until many years after [Ford] commissioning, which will limit the ship's mission effectiveness during initial deployments and likely increase costs to the government.'
It added: 'The Navy faces technical, design, and construction challenges to completing
Gerald R. Ford
that have led to significant cost increases.'
There are two other ships in the Ford class: the USS John F. Kennedy and a new USS Enterprize - expected to be commissioned in 2020 and 2025 respectively. The total cost for the three vessels is estimated to be more than $43 billion.