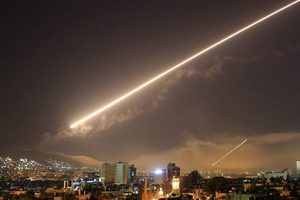 Syrian air defense systems protecting Damascus - the oldest continuously-inhabited city on Earth - from Western airstrikes, 14 April 2018
In the Truth there is no news, and in the News there is no truth
- Popular Russian saying under Soviet Communism
Recent Comments
I hope that these people are able to get some form of compensation from the company that demolished their house! At the very least, they should be...
---
Interesting interview/talk with Engdahl's. There are other authors who could aid on some of the things he has said regarding this Russian economic...
---
I imagine that there will be a great flurry of activity at those self storage [Link] warehouses after the big pow-wow between Trump and Putin now....
---
Handshakes are all-important in France. Two guys show up for work next to each other, they shake hands. Lunch time, they shake hands again before...
---
" But as he reached his peak in 2015, Mancini suddenly began to suffer delusions. He imagined the government was spying on him, that members of...