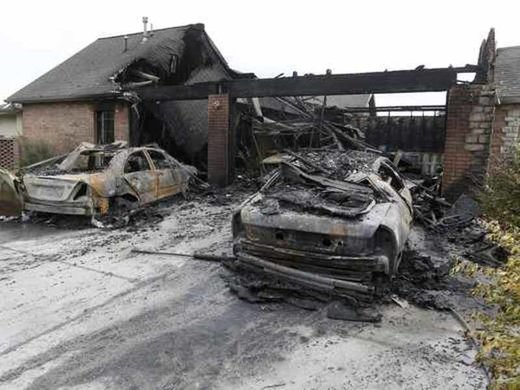 A house explosion in Willard late Sunday night has left one man recovering from burns and a whole community wondering about the cause.
The boom was heard and felt in Willard's Clear Creek Estates and beyond. "We had calls from as far as 5 miles away,"
says Willard Fire Chief Ken Scott.
Neighbor Julie Kelley says,
"All of a sudden, the house just shook, and it was a loud boom, so we got startled and were trying to figure out what was going on."
It took a minute for Kelley and her husband to discover the source of the boom. "I told my husband, I said it's too loud to be thunder and there's no weather," says Kelley.
Just stepping outside answered their question. "I walked out and the garage was already just completely engulfed in flames shooting up," Kelley says.
"It looked like the explosion happened in the garage area of the house, so every window, every door on the house had been blown off the hinges upon our arrival," says Chief Scott.
Firefighters say the garage doors blew out of the house and landed about 40 feet from the house, and some debris went even further.
"One of our neighbors had said that he said
he had a gas can in there
. So of course anything that ignited near that probably would cause a big explosion. So that's all we've heard," Kelley says.
Neighbors grabbed a blanket for the man, who was able to escape through the burning home's front door. The fire chief says he went to the hospital with 2nd degree burns to his hands and torso.
"He was able to get out, so yeah, that was a blessing," Kelley says.
Scott says, "From the looks of the house, very fortunate no one else got hurt." No one else was home at the time, though Scott says there are other residents of the home.
The state fire marshal is still investigating the cause of the blast
, a question on every neighbor's mind. Chief Scott says that determination could take a couple of days.