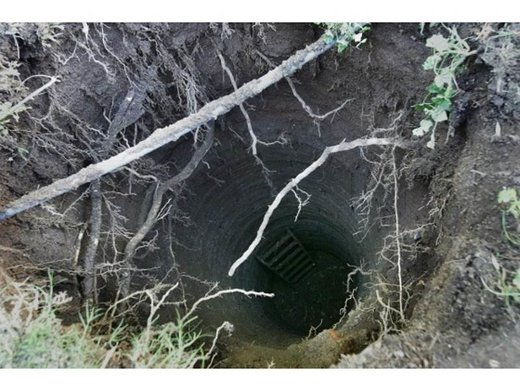 A hole estimated to be four feet wide and 30-40 feet deep opened in the backyard of a Riverside home Wednesday morning, March 23, leaving the people who live there scratching their heads.
Tasha Jenkins, 23, said she and her boyfriend discovered the hole at their Pennsylvania Avenue home after he began to drain their above ground backyard pool. Water began falling down the hole. Jenkins' boyfriend then came inside and grabbed her as she was doing dishes and had her come outside.
"He said, 'come here' but his face was so in shock. ... I was scared something had happened to the kids," she said. "But when I came outside, he said, 'what do you hear, what does it sound like?' It sounded like a waterfall."
The sound was the above ground pool's water flowing into the deep hole where there had once been grass and dirt.
Jenkins said that since she and her boyfriend discovered the hole, neighbors have been coming to look at it all day. One neighbor almost fell in. Neighbor Christopher Grays was among those who came to look. He said he expected to find a hole, but not one so large or deep. Jenkins said Riverside Public Utilities workers who came to look at the hole believe it may be an old well or drainage system. She said she was told by workers that it may not fall upon the city to fix the hole but on her home insurance instead.
"They said because it wasn't part of the pipes or the sewer system, they couldn't help us," she said.
Riverside Public Utilities spokeswoman Heather Raymond said officials were aware of the hole and were investigating but that she had no other information to share early Wednesday evening. She said more information might be available later in the day.
Jenkins said she found it somewhat nerve-wracking to know that a giant hole had been ready to open at any time. She said the backyard has been a place where her four children have played almost every day; it's been the site of birthday parties and bounce houses.
"I'm just happy that no one has fallen in," she said. "It was a day when no one was outside. All the kids were in and watching TV."