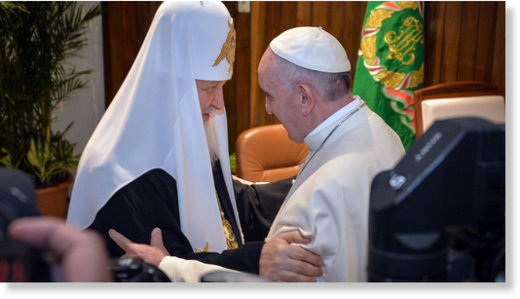 Patriarch Kirill, the head of the Russian branch of Orthodox Christianity, is holding a historic meeting with Pope Francis in a meeting room at the international airport in Havana, Cuba. The two churches have been divided for 1,000 years.
"We are brothers, at last," were the first words Pope Francis addressed to his counterpart, TASS news agency reports. "Now, it will be easier," responded Patriarch Kirill. "It is evident that this meeting is God's will," said the Pontiff, in his native Spanish.
"We are meeting at the right time and at the right place. I want to emphasize once again that it became possible with God's will," Patriarch Kirill told the Pontiff.
The two religious leaders embraced warmly in front of the cameras before proceeding to hold closed-door talks that were expected to last two hours. The Russian Orthodox Church said Patriarch Kirill would discuss the persecution of Christians around the world. Pockets of Christianity in the Middle East have been some of the worst affected by the Arab Spring and the Syrian conflict.