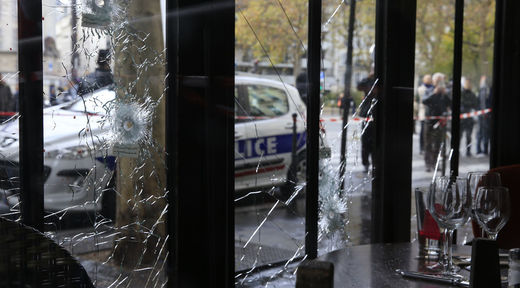 A dispatch sent by Iraqi officials and
obtained by AP
shows that Baghdad warned members of the US-led coalition battling ISIS of imminent attacks by the group just one day before the Paris terror attacks killed 129 people and wounded 352 others.
Iraqi intelligence sent a dispatch saying that Islamic State (formerly ISIS/ISIL) leader
Abu Bakr al-Baghdadi had ordered an attack on coalition countries fighting against the group in Iraq and Syria, as well as on Iran and Russia, through bombings or other attacks, according to the message.
"We have recovered information from our direct sources in the Islamic State terrorist organization about the orders issued by terrorist 'Abu Bakr al-Baghdadi' directing all members of the organization to implement an international attack that includes all coalition countries, in addition to Iran and the Russian Federation, through bombings or assassinations or hostage taking in the coming days. We do not have information on the date and place for implementing these terrorist operations at this time," the dispatch read.
Speaking
anonymously
to AP, six senior Iraqi officials confirmed the information in the message, and
four of those officials said they specifically warned France of a possible attack
. Two officials told AP that France was warned beforehand of further details that the country's authorities have not made public.
The officials said the Paris attacks appear to have been planned in Raqqa, Syria - ISIS's de-facto capital - where the attackers planned specifically for the operation. After their training, the attackers traveled to France where they met with members of a sleeper cell who helped them carry out the deadly attacks.
A total of 24 people were reportedly involved in the operation: 19 attackers and five others in charge of planning and logistics.
Iraqi Foreign Minister Ibrahim al-Jaafari also told journalists on Sunday that Iraqi intelligence agencies had obtained information that some countries, including France, the US, and Iran, would be targeted, and had shared intelligence with those countries.
But a French security official told AP that
Paris receives such communication "all the time" and "every day."
He added that the head of French counterintelligence goes to bed every night asking, "Why not today?"
The French president's office did not comment to the news agency.
Meanwhile, a senior US official said he was not aware of any threat information sent to Western governments that was specific enough to have protected against the Paris attacks. He said, however, that Western governments have expressed concern for months about ISIS-inspired attacks by militants who fought in Syria.
Baghdad has been sharing intelligence with coalition nations since they launched their airstrike campaign against ISIS last year. The US-led coalition is operating in Iraq and Syria, providing aerial support to allied ground forces in both countries, as well as arming and training Iraqi forces.
ISIS claimed responsibility Saturday for the Paris attacks, which included gun and bomb attacks on a stadium, a concert hall and cafes. Seven of the attackers blew themselves up, and French authorities have been searching for accomplices.
The assaults come 10 months after Islamic extremists attacked the offices of satirical newspaper Charlie Hebdo and a Jewish supermarket in Paris. France's prime minister cited "failings" in intelligence at the time.