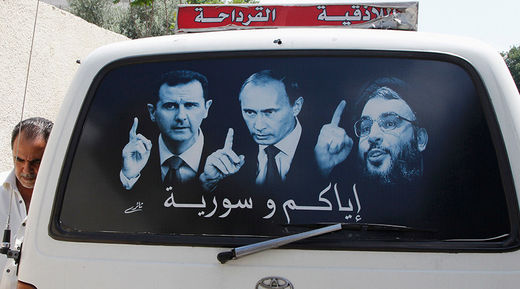 Leaders of the US and the UK have recently slammed Russian airstrikes against Islamic State in Syria, claiming they only make things worse.
These allegations are "totally unacceptable," MP from the Left Party in Germany Wolfgang Gehrcke told RT.Trends
Russian anti-terror op in Syria
.
"Just for once I'd like to hear the US president say: 'Yes, we've made a mistake,' and expiate enmity. What I get to hear instead is insults and allegations addressed at Russia, and this is totally unacceptable."
I've never heard the US criticizing the UK or France in a similar way. This is only done towards Russia from the American side. In my view, only to criticize Russia is unjustified," Gehrcke said in an interview with RT.
Russia started airstrikes on terrorist targets in Syria on Wednesday at the request of President Bashar Assad's government.
The primary objective is to provide air support for Syrian troops fighting Islamic State. Explaining Moscow's decision to get involved in Syria, Russian President Vladimir Putin said that radicals from many countries, including Russia, have flocked to Iraq and Syria to join the terrorist group. They must be defeated where they are, so that they do not return home with battle experience and ideology adopted in the war zone, the Russian president pointed out.
"Many have simply shut their eyes to what Islamic State (IS, also ISIS/ISIL) actually is. How did IS get the weapons? Where did they get all their money? How do they manage to attract so many mercenaries across the world?
I'd like to have an agreement with Russia for the global community to make sure that no more mercenaries can get to Syria, to IS. No supply of arms must reach Syria and Islamic State, with all sources of money cut off," Gehrcke said.
Russia's Defense Ministry has repeatedly stressed that all airstrikes are based on accurate intelligence data and take place away from residential areas. But the day after Russia launched the first airstrikes, Moscow had to re-address concerns voiced by some Western politicians and mainstream media claiming that Russian bombardment allegedly targeted democratic Syrian opposition forces instead of IS, and led to civilian casualties.
The Russian Air Force has conducted more than 80 flights and bombed over 60 Islamic State targets in four days,
according to Defense Ministry reports on Saturday and Sunday. The strikes have significantly reduced the terrorists' combat capabilities, the Russian military officials say.
On Saturday, Barack Obama accused Russia of weakening the Syrian rebels' chances of eventually toppling President Assad's government and somehow strengthening Islamic State as a result.
"The moderate opposition in Syria is one that, if we ever going to have a political transition, we need. And the Russian policy is driving those folks underground or creating a situation in which they are de-capacitated and it is only strengthening ISIL,"the US president said.
At the same time,
Obama admitted that the Pentagon's support to the so-called moderate rebels has basically failed,
because the rebels consider President Assad their primary target and are unwilling to confront Islamic State.
"The problem here is Assad and the brutality he's inflicted on the Syrian people," Obama stated, adding that the US will continue to support moderate opposition groups to ensure an eventual transition to "democracy."
According to Gehrcke, it's necessary to maintain dialogue with Assad. "Assad must take part in resolving the Syrian conflict, there's no other way to do it. There will be negotiations held under the leadership of the Special Envoy of the Secretary-General for Syria, Staffan de Mistura. Assad won't sit down at the negotiating table himself, but will send a representative of his government instead. Even the German chancellor now speaks of the need to negotiate with Assad. It's important to connect the Syrian government to the negotiating process. And when the violence ends in Syria, the Syrian people will choose their president, be it Assad or anyone else. But any other way out [from the crisis] is doomed to failure.
I've got a lot of friends in Syria who take the position of non-use of force. They all want a political solution. Violence must stop in Syria, putting an end to death and murder. That's the most important thing. "
I very much hope that steps taken by Russia will contribute to this,"
he added.
Addressing the UN General Assembly earlier this week, Russian President Vladimir Putin proposed the creation of a broad and unified coalition to confront Islamic State and other extremist groups in the region in coordination with forces fighting terrorists on the ground. A joint Information Center has been set up in Baghdad, collecting intelligence and sharing recon data among Iraq, Iran, Syria and Russia. Other interested parties are welcome to join. Obama immediately played down Russia's initiative, saying that only"Iran and Assad make up Mr. Putin's coalition at the moment, the rest of the world makes up ours."