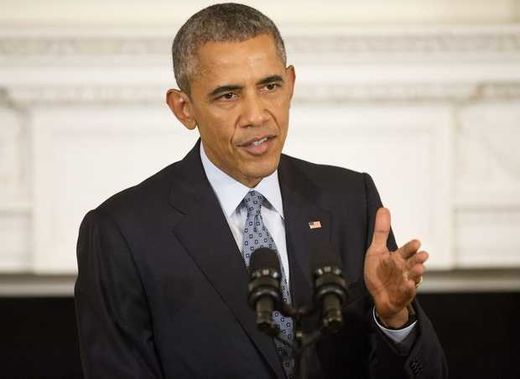 Three days into its bombing campaign in Syria, Russia on Friday at last targeted Islamic State positions, striking at the defacto capital of the terror organization and at least one other site.
The Russian strikes at the Islamic State came after two days in which its aircraft attacked locations belonging to other fighting groups opposed to Syrian President Bashar Assad, including CIA-supported rebels, sparking calls for the Obama administration to do something to protect fighters it had trained and equipped.
But President Barack Obama made clear that the U.S. had no plans to deepen its role in Syria.
"
We're not going to make Syria into a proxy war between the United States and Russia,
"
Obama said at a White House press conference.
"
That would be bad strategy on our part
."

Comment: The Obama administration has been, and ever will be, chock full of "bad strategy". So don't worry, it'll just be a matter of weeks or days before the US responds with another God-awful tactic, false flag, or propaganda blitz that is designed to undercut Russia in its battle to stave off more of US/NATO-led destruction.


He also rejected calls he should act to preserve U.S. credibility and influence.
"This is not some, you know, superpower chess board contest, and anybody who frames it in that way isn't paying very close attention to what's been happening on the chess board," he said.

Comment: Obama and his elitist cronies only wish people weren't paying close attention so that their humiliation at the hands of Russia's recent moves would be less glaringly obvious.


But there were signs that U.S. influence over events in Syria was eroding,
with
the Kurdish militia that has been Washington's closest ally on the ground
there extending a public welcome to Russia and offering to fight alongside Russia against the Islamic State. It also asked Moscow for weapons.
"We will fight alongside whoever fights Daesh," Salih Muslim, co-president of the Democratic Union Party, the Kurdish political party whose militia, the People's Protection Units, or YPG, have closely coordinated its operations with the United States, told the online magazine
Al Monitor
in an interview. Daesh is an Arabic acronym for the Islamic State, which is also known as ISIS and ISIL.
"We want Russia to provide us air support as well as weapons in our fight against the ISIL militants," a YPG commander, Sipan Hemo, was quoted as telling the Russian Sputnik news portal. "We can organize an effective cooperation with Russia on the issue."
The United States and the YPG have been close allies for the past year after
their coordination broke an Islamic State siege of the Kurdish city of Kobani,
and U.S. airstrikes are credited with helping the YPG seize an estimated 6,800 square miles of northern Syria from the Islamists in recent months.
U.S. officials in recent weeks have pointed to the YPG as the most effective anti-Islamic State group in Syria.
But
the YPG recently has slowed its offensive
after Turkey
, a U.S. NATO ally and bitter rival of the Kurds,
objected to its success
, and U.S. bombing missions over northern Syria have dropped precipitously.
Some analysts speculated that the YPG was interested in Russian support because Moscow was unlikely to respond to
Turkey's worries that the Kurds' success would fuel a push for independence among its own Kurdish minority
.
Russian involvement might also discourage Turkey from entering Syria to squelch any cooperation between the YPG and the Kurdistan Workers Party, or PKK, whose guerrillas have been battling Turkish authorities for 30 years. On Friday Turkish Prime Minister Ahmet Davutoglu, warned the YPG not to support the PKK offensive in Turkey. "If there is any leakages from Syria like in Iraq . . . we would not hesitate to strike at any group that poses a threat to our national security."
"The U.S. is active in the north. The Russians will not meddle in the north. But should Turkey attempt to intervene, they will," Muslim said. "They will prevent Turkish intervention, not to defend us but to defend Syria's border."
Ten Islamic State targets were struck Friday primarily in the wcountryside outside Raqqa, according to Sarmad Aljilany,
an activist with the "Raqqa is being slaughtered silently"
Internet portal.
There were no estimates of damages or deaths, but the Islamic State canceled Friday prayer services at the four main mosques in Raqqa - where attendance is usually obligatory.
The Syrian Opposition Coalition, the anti-Assad civilian political group, said Russian aircraft also bombed Islamic State positions in Qaryatain, a city in eastern Homs province that the Islamic State captured in August.
There were also reports of Russian attacks on locations where no Islamic State forces were present. Local activists said aircraft targeted the hospital in Latamneh, the headquarters for a CIA-backed unit known as the Al Izza Brigade in northern Hama province and also struck Maarat al Numan in Idlib province.
Syrian and American aircraft also undertook bombing runs. The Syrian air force conducted 15 airstrikes in the Islamic State-held town of Al Bab, hitting many civilian targets including the main market and a hospital,
according to the Al Bab Local Coordination Committee, an anti-Assad group
.

Comment: Considering the plethora of proven lies made by various anti-Assad groups and the Western media in recent years, we cannot possible take this claim seriously. Further, Assad and Russia's forces know that the entire world is watching their every move at this point. Why in the heck would they give their enemies more "ammunition" against themselves?


Meanwhile, U.S. aircraft carried out eight airstrikes against Islamic State targets in eastern Syria, well away from Russian and Syrian government aircraft. Six were carried out in Hasaka province, where the U.S. has worked closely with the YPG, and there was one each in Palmyra, an Islamic State-held city that dates back to Roman times, and Deir el Zour, another Islamic State bastion.
The YPG's embrace of the Russian intervention came as seven members of the U.S.-led anti-Islamic State coalition urged Russia to target the Islamic State and not other fighting groups in its attacks.
In a statement, the United States, France, Germany, Qatar, Saudi Arabia, Turkey and Britain expressed the "deepest concern" about the bombing of Hama, Homs and Idlib provinces "which led to civilian casualties and did not target Daesh."
"These actions constitute a further military escalation and will only fuel more extremism and further radicalization," the seven countries said.
Obama also struck that theme at his new conference.
"A military solution alone, an attempt by Russia and Iran to prop up Assad and try to pacify the population, is just going to get them stuck in a quagmire, and it won't work,"
Obama said he told Russian President Vladimir Putin when the two men met at the United Nations earlier this week.

Comment: Sour grapes and hypocrisy from Bam Bam. If Obama had actually believed in the power of diplomacy, consensus and international law, the world wouldn't be in the mess that it is in in the first place.


His remarks came as Republicans looking to replace him have stepped up their criticism of his Syria policy. Even as his former Secretary of State Hillary Clinton said she would push for a no-fly zone and humanitarian corridors in the country.
But Obama dismissed much of the criticism as "half baked ideas" and "mumbo jumbo."
As for Clinton's suggestions, he said there was a difference between running for president and being president.
"The decisions that are being made and the discussions that I'm having with the Joint Chiefs become much more specific and require, I think, a different kind of judgment," he said.