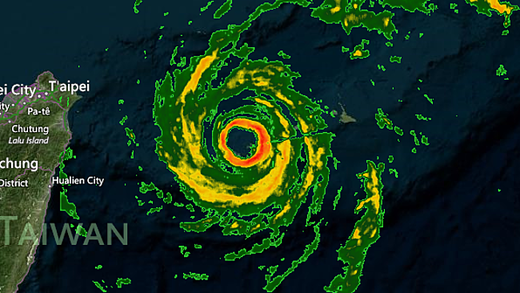 Goni has strengthened back into a powerful typhoon as it bears down on Japan's Ryukyu Islands with mainland Japan the next target.
The eye of Goni was crossing the Yaeyama Islands, the southwestern most Ryukyu Islands, on Sunday evening local time (Sunday morning EDT) with destructive winds and torrential rainfall.
Typhoon Goni Lashes Northern Philippines
After weakening as it lashed the northern Philippines, Goni has since strengthened with its intensity now equal to that of a major hurricane in the Atlantic or eastern Pacific oceans. Goni left 15 people dead, mainly due to landslides, in the Philippines, the
Associated Press
reports.
Within the eyewall of Goni, Ishigakijima recorded sustained winds of 162 kph (101 mph) and a gust to 255 kph (159 mph).
Life-threatening destructive winds in excess of 160 kph (100 mph) will persist across the Yaeyama Islands and nearby Miyako Islands through early Monday morning. Flooding rainfall will top 250 mm (10 inches) as an inundating storm surge further endangers residents.
Goni and the worst of its fury should track just to the west of the rest of the Ryukyu Islands on Monday, but the powerful typhoon will still pass close enough to produce damaging winds of 95 to 130 kph (60 to 80 mph) and rainfall of 75 to 150 mm (3 to 6 inches).
While mainland Japan escaped a blow from Typhoon Atsani, the same cannot be said for Goni. Residents, especially on Kyushu, should be rushing to complete preparations to protect lives and property.
Conditions will begin to deteriorate across western mainland Japan on Monday before Goni barrels through with flooding rain and damaging winds on Monday night through Tuesday.
Goni's strength will be equal to that of a Category 2 hurricane when its center makes landfall or grazes northwestern Kyushu on Monday night. Nagasaki is at risk of facing a direct landfall.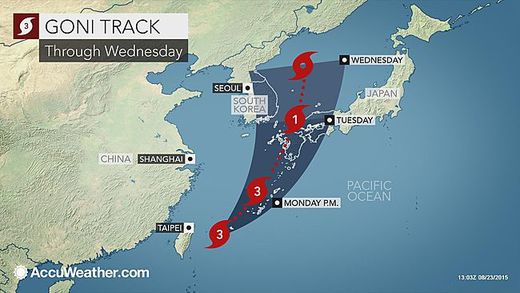 Even if its center narrowly bypasses Kyushu to the north, Goni will still batter the island with destructive winds, flooding rain and an inundating storm surge.
Near the center of Goni, wind gusts of 160 to 195 kph (100 to 120 mph) will howl and cause widespread damage on Kyushu. Anyone outside during the height of the storm faces being struck, potentially fatally by flying debris.
Winds, otherwise, will average 80 to 130 kph (50 to 80 mph) across the island, as well as on Shikoku, western Honshu and the southeastern tip of South Korea. Such winds threaten to damage trees and weak structures and lead to power outages.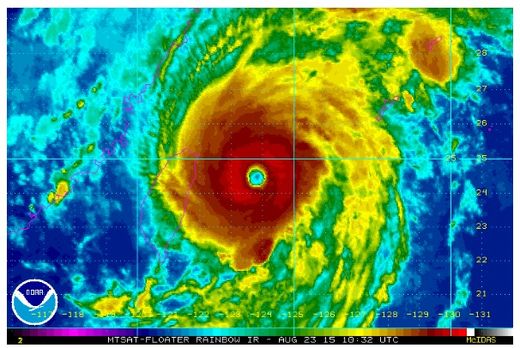 In addition to the wind, rainfall will total 100 to 200 mm (4 to 8 inches) across the above islands. Locally higher amounts are possible, especially in the higher terrain. The greatest rain amounts will be measured near and north of Goni's center. Flash flooding and mudslides are sure to result.
An inundating storm surge will further put lives at risk along the coast of Kyushu. The surge could reach heights of a couple of meters (several feet) near and south of Goni's center on Kyushu's western and southernmost coast.
A storm surge may also cause flooding along the south-facing coasts of Shikoku and western Honshu.
Goni will weaken to a tropical storm across the Sea of Japan at midweek before making its final landfall around Vladivostok, Russia. Flooding rainfall and winds of 65 to 95 kph (40 to 60 mph) will remain an issue around the southern border of southeastern Russia and northeastern China.
AccuWeather Meteorologist Eric Leister contributed to the content of this story.