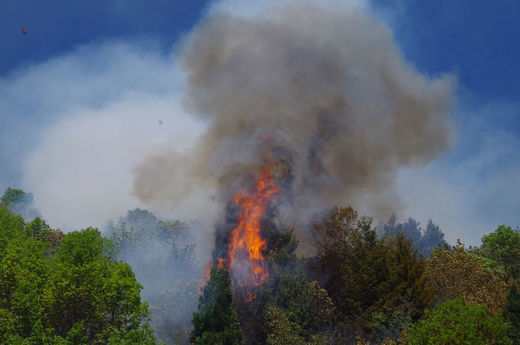 Hundreds of lightning strikes have sparked dozens of wildfires on state and federal land in southern Oregon since Monday, and continued thunderstorms and high winds have prompted a "red flag" fire warning for Hood River, Curry, Josephine, Jackson, and Klamath counties.
On a day when the Obama administration warned of potentially catastrophic wildfires in the Northwest and Southwest this summer, Oregon officials say fire season has begun far earlier than usual.
"This is the earliest that I can remember in a long time," said Don Ferguson, a spokesman for BLM's Medford district. "I heard someone say it's burning like August out there. "
Fire officials in Klamath and Lake counties
made it official
on Friday, declaring that fire season regulations
are in effect
.
The recent lightning strikes have often come without significant rainfall. Officials on Tuesday said state and federal fire teams had started battling the majority of fires by late afternoon. While most of them were a tenth of an acre, there were exceptions.
The U.S. Forest Service said it is making progress in containing the 12-acre Red Dog fire in Rogue River-Siskiyou National Forest. "We are expecting full containment by end of shift this evening," said Virginia Gibbons, a public affairs officer.
Meanwhile, the Oregon Department of Forestry is sending an air tanker loaded with water to combat a five-acre fire in the Soda Mountain Wilderness Area, east of Ashland and north of the California border.
Red flag warnings
issued by the National Weather Service refer to the combination of low humidity, hot weather and wind. The NWS on Tuesday afternoon warned that the eastern slope of the Cascades in northern Oregon and the lower Columbia basin of Oregon are all vulnerable until 7 p.m. Wednesday.
While the fires that started earlier Tuesday were largely under control, the forest service is calling in three 20-person interagency "hotshot" crews to make sure they stay that way, Gibbons said.
The latest round of fires comes on top of the
Corn Creek Fire
that on Monday burned more than 75 acres east of Canyonville.
The early start to fire season means state and federal agencies can expect more fires this year. Not only that, but they aren't expected to be easy ones to fight unusually low winter snowfall.
"It's kind of upside-down this year. The higher forest fuels are really dry because we didn't get much saturation from the winter snowpack," said Brian Ballou, a spokesman for the Oregon Department of Forestry's southwest district. "The valley floor, which is usually ready to burn first, is actually fairly green. The higher elevation is causing us more trouble than the stuff down low."
The Soda Mountain fire is an example of what that means — more use of helicopters, while getting bulldozers in takes longer and fire crews have to hike in or be flown.
"Generally the more remote it is the greater the chance the fire is going to get bigger," Ballou said. "Just because it's harder to get people in there."
In 2014, wildfires burned 1.3 million Northwest acres
costing $460 million to fight them.
The early start to fire season likely means greater costs to state and federal agencies. "The longer you're in, the greater the costs," Gibbons said. That said, rains hit before Labor Day in 2013, ending the fire season weeks early. "So you never know for sure."
Fire officials are urging the public to avoid outdoor burning and to use caution when traveling on roads and trails. Campers are urged to follow standard precautions such as making sure campfires are put out completely using water until the remnants are cold to the touch.
On Tuesday, Obama administration officials at a news conference in Denver urged Congress to tap disaster funds to help the situation this year. They warned that federal firefighting costs are expected to range from $1.1 billion to $2.1 billion for the Agriculture and Interior departments this year. The high end would exceed their combined firefighting budget of about $1.4 billion.
Washington, Oregon, northern Idaho and western Montana will face increasing fire danger later in the summer, U.S. Forest Service chief Tom Tidwell said.

The Associated Press contributed to this article