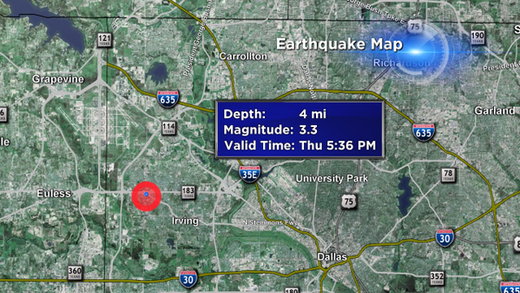 Three earthquakes shook the Irving area Thursday.
The first was a 2.7 magnitude quake recorded at 5:38 am, centered 4 miles from Irving.
The second and largest hit in the early evening. USGS reported a 3.3 magnitude earthquake at 5:36 pm. This one was centered 2 miles from Irving, but was felt in Dallas as well.
Yes, I felt #earthquake on top floor of CBS TOWER in Dallas. A quick little jolt.

— STEVE PICKETT (@STEVEPICK11) April 2, 2015
Social media lit up with people in downtown and uptown Dallas reporting they felt high rise buildings shake.
Passengers at Dallas Love Field reported feeling it, and people in Irving said on social media that the earthquake did not feel "small."
Third time's a charm? Another earthquake around 10:20pm...3rd of the day. Not quite as strong...a Magnitude 2.6 #earthquake

— Dan Henry (@DanHenryFox4) April 3, 2015
CBS 11's Larry Mowry reported there have been 13 earthquakes measured 3.3 or greater in all of North Texas since 2008.
@CBS11Larry possibly the biggest I have felt here in Irving. The whole house shook!

— Victoria Andrews (@VictoriaC09) April 2, 2015
It was the third strongest quake in Irving area this year, with a 3.5 and a 3.6 recorded back on Jan. 6th in same area.
Then at 10:04 pm, USGS reported another quake, centered 2 miles from Irving.