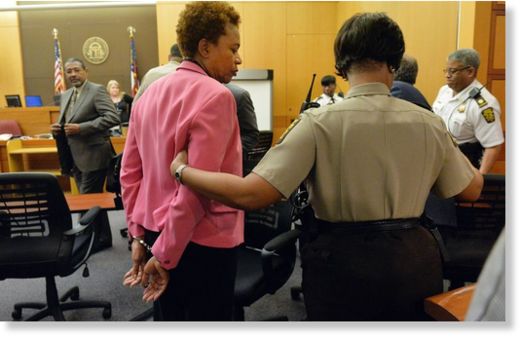 Eleven former Atlanta public school educators were found guilty by a jury on Wednesday on charges of racketeering in one of the largest U.S. test-cheating scandals.
Prosecutors accused a dozen former teachers, principals and administrators of erasing incorrect answers or instructing students to change their answers to secure promotions and cash bonuses in 2009.
Eleven of the 12 defendants were found guilty of racketeering. Some were also convicted on lesser charges.
Only one educator was found not guilty on all counts.
The educators were among 35 teachers, principals and administrators indicted in 2013 after a state investigation of 56 Atlanta public schools found cheating on standardized tests in 44 of them.
The cheating was largely prompted by pressure to meet test targets, according to the state investigation.
The 11 educators were led out of the courthouse in handcuffs and will be jailed until their sentencing later this month. They face prison sentences of up to 20 years.
The jury reached its verdict after hearing nearly six months of testimony in the case and deliberating for eight days.
"I'm devastated," said defense attorney Bob Reuben, representing a former elementary school principal. "I don't believe she was guilty. Errors were made that can be raised on appeal."
Fulton County District Attorney Paul Howard said: "Our entire effort in this case was to get our community to look at our educational system. We've been fighting for the children in our community."
Defense attorneys, however, argued that there was no conspiracy to cheat and that prosecutors had pressured other educators to testify against their former colleagues.
Former Atlanta Public Schools Superintendent Beverly Hall, who was named National Superintendent of the Year during the period when the cheating occurred, was among those indicted.
Hall's case was put on hold for medical reasons, and she died of breast cancer earlier this year.
Source: Reuters