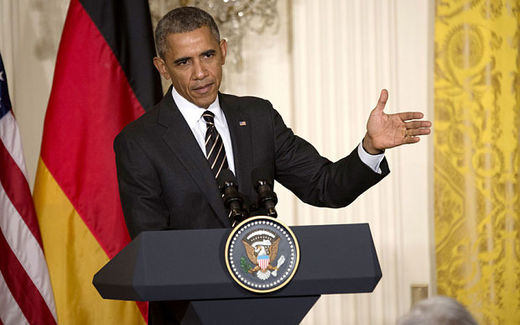 President Barack Obama has warned Russia not to continue its "aggressive actions" in Ukraine as
the repercussions will increase
.

Comment: What is the word for 'repercussions' when the act leading to those 'repercussions' did not occur? Unilateral aggression based on false pretenses?


The White House said Mr Obama reiterated
US support for Ukraine's sovereignty
in his call with Vladimir Putin, the Russian president, and emphasised the importance of reaching a diplomatic resolution.

Comment: We guess 'supporting' a country's sovereignty is synonomous with violating it for the U.S. It is the U.S. that violated Ukraine's sovereignty when they sponsored the coup there in 2014.


"However, if Russia continues its aggressive actions in Ukraine, including by sending troops, weapons, and financing to support the separatists, the costs for Russia will rise," the White House said in a statement.

Comment: And yet the U.S. has been financing regime change, sending military aid, and is planning on sending lethal weaponry (if NATO isn't already) to Kiev. Double standard?


The top Republican and Democrat on the House Armed Services Committee on Tuesday called for $1 billion (£655 million) in lethal defensive aid to Ukraine as Congress increased pressure on Mr Obama
to help Ukraine defend itself against Russian-backed rebels
.

Comment: More nonsense. "Defense" directly implies an offense from the other side. There is no offensive aggression from the DPR and LPR; they are the ones defending themselves from Kiev's punitive war, in which Kiev constantly shells civilian areas. Words have meanings. Those who twist them in such ways are liars, plain and simple.


Republican Mac Thornberry, the panel's chairman, and Democrat Adam Smith of Washington state introduced legislation that would provide training, equipment and lethal defensive weapons to the national security forces of Ukraine through September 30, 2017 to help secure "its sovereign territory against foreign aggressors."

Comment: There are no foreign aggressors. There are volunteers from many different countries, however. They are there because Kiev's punitive operation is immoral, illegal, and a sick assault affront to human decency.


"It seems
Russia has decided to go back to the Cold War
," Mr Smith told reporters at a news conference, citing Russia's takeover of Crimea and push into eastern Ukraine. The imposition of economic sanctions "has not at all changed President (Vladimir) Putin's calculus."

Comment: Nope, that would be the U.S.


Mr Thornberry, who joined senators at a defense conference in Munich this past weekend, said: "There's a huge amount of bipartisan support to allow the Ukrainians to defend themselves."

Comment: Quit it with the cynical doublespeak and just say what you mean: There's a huge amount of bipartisan support to allow the Ukrainians to kill civilians.


Mr Obama is
considering sending lethal aid
to Ukraine's military. The president spoke on Tuesday with the leaders of both Russia and Ukraine, one day before they meet for talks aimed at reaching an elusive peace deal.
The president also discussed Wednesday's ceasefire talks in Minsk, Belarus, with Petro Poroshenko, Ukrainian president. The peace talks involve the leaders of France, Germany, Russia and Ukraine and come after nearly a year of fighting that the
UN says has killed more than 5,300 people.
Ukraine and Western nations fault Russian aggression for fueling
the rebellion with troops and weapons, a charge Moscow denies.
The bipartisan legislation - and the show of unity by the two senior politicians - underscore the growing demand in Congress from both Republicans and Democrats for aggressive action by the US.

Comment: While all of Europe - those most affected by the conflict - seems to be against any further conflict. What is wrong with this picture?


Last week, Republicans and Democrats called on the administration to provide lethal defensive weapons as well as provide additional non-lethal assistance, including counter-battery radars, unmanned aerial vehicles, electronic counter-measures for use against opposing UAVs, secure communications capabilities, armoured Humvees and medical support equipment.
They wrote that the defensive military assistance the US should provide include light anti-armour missiles "given the large numbers of armored vehicles that the Russians have deployed in Donetsk and Luhansk and the abysmal condition of the Ukrainian military's light anti-armour weapons."
The four-way summit in Minsk aimed at resolving the crisis is still very likely to go ahead as schedule despite a number of unresolved issues, Laurent Fabius, the French foreign minister, said on Wednesday.
"There are a number of problems which remain to be resolved ... but it is very likely to go ahead," Mr Fabius told France Inter radio. "It is really a last-chance negotiation."
The planned meeting comes after rockets killed more than 10 civilians and soldiers in Ukrainian government-held territory on Tuesday. Frank-Walter Steinmeier, Germany's foreign minister, said he hoped no further explosion of violence would put the meeting in doubt.