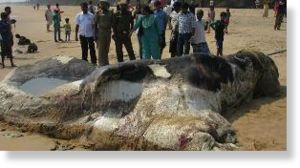 The carcass of a 40-foot-long tropical male whale washed ashore on the Sadras Kuppam Beach near Chennai on Sunday morning.
The whale, also known as the Bryde's whale, might have died after being struck by a large steel-hulled vessel as its spine was broken, a forest official said.
The carcass that weighed around 15,000 kilograms was hauled with a crane and buried on the shore by forest department officials.
"From the measurements of the whale, the small size of its dorsal fin and the absence of teeth, we declared it to be a tropical whale," said Supraja Dharini of Tree Foundation.
The slender and pointed dorsal fin of the bluish-grey whale measured 45cm.
"One unique feature of this whale is that it bears three ridges on its head. Bryde's whales can dive up to 300 metres and swim at a speed of 25km per hour," said Dharini.
She said, "Ship strikes are a major threat to whales and dolphins. We have recorded more than 15 dead marine mammals in the last one year on the shoreline between Neelankarai and Alamparai in Kancheepuram district."
The tropical whale feeds on lobster, squid, octopus, crab, shrimp, cuttlefish, anchovies, herring, pilchard and mackerel.