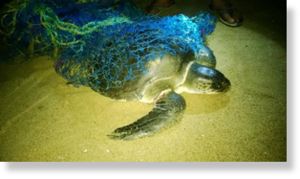 The nesting season for Olive Ridley turtles is barely 20 days old and already 314 turtles have washed ashore dead on the city's beaches. Conservationists say the turtles die after getting stuck in trawlers' fishing nets.
On Saturday morning, 60 turtles were found dead on the stretch between Neelankarai beach and Alamparai village in Kancheepuram district, according to Tree Foundation that patrols the stretch every year during the nesting season. "The numbers are alarmingly high this year and we are just into the second week of the season that will continue till March-end," said Tree Foundation founder-chairperson Supraja Dharini. Tree Foundation volunteers buried the dead turtles near the shore later in the night.
Members and volunteers of the Students' Sea Turtle Conservation Network (SSTCN), a group that patrols the coastline from Neelankarai to Napier's Bridge, including Marina and Elliot's beaches, reported 70 dead turtles were washed ashore. SSTCN coordinator V Arun said, "
Considering that only 5-6% of the dead turtles are washed ashore, the real death toll could be many times higher."
According to turtle conservation groups, most of the deaths are caused due to the failure in implementing the Tamil Nadu Marine Fishing Regulation Act, 1983, which prohibits fishing trawlers from operating within 5 km of the shore.
"Female turtles on their way to the shore to lay eggs are trapped in fishing nets of mechanised boats, gill nets or ray fishing nets. Most fishermen who find dead turtles in their nets throw them back into the sea," said Dharini.
On Pattipulam beach, between Mamallapuram and Nemmeli, more than 20 dead turtles were found. Kodandapani, who found the carcasses, alerted the local turtle conservationist group.
"Most of the bodies were bloated. Eggs were falling out of a dead female turtle that had died after making it to the shore. I spotted dead turtles every 50 feet," said Kodandapani.
The state fisheries department now plans to conduct demonstrations of the Turtle Excluder Device (TED). "When fitted in fishing nets, it can facilitate escape of a captured turtle. Fishermen will be educated on using the device," said an official.
Turtles that need to breathe fresh air every 45 minutes die when trapped underwater in fishing nets.
The department, along with Tree Foundation, held a demonstration for Kasimedu fishermen on January 13, and another two-day session is planned on January 20 and 21.
On January 13, the fishermen agreed to not fish within 5 km of the shore and also promised to stay away from estuaries that teem with turtles during the season.